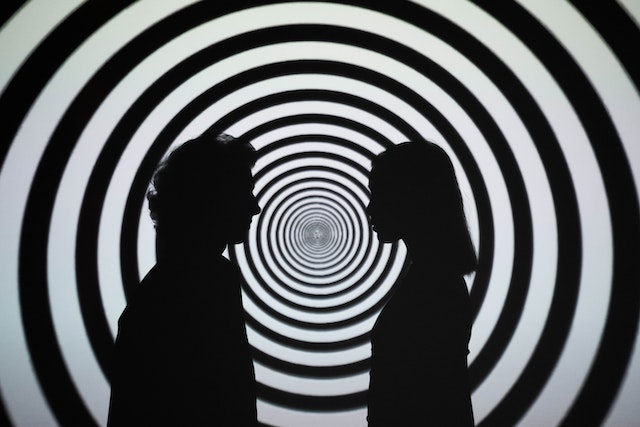 Many men and women believe that "seducing" is "manipulating the other" and getting him/her to do things against her/his will (such as sucking a cock).
Seduction has always fascinated, in antiquity yet Ovid published the Art of Love, and Auguste scandalized sent him forever into exile! Famous seducers and seductresses, real and fictional characters mixed (examples: Casanova, Valmont and Merteuil of Dangerous Liaisons), contribute to this mixed effect of fascination/repulsion.
The game is a complex discipline that can be fascinating but also scary (because people are afraid of being seduced against their will)… a little bit like magic in the Middle Ages.
I will try to explain why there is no "ugly manipulation" in what we, the Pick-Up Artists, do.
Techniques of manipulation and influence: the share of prejudices and bad faith
The ignorant, the politically correct people, the envious perhaps, often reproach us for manipulating because we teach and use different verbal and para-verbal communication techniques.
But how would it be wrong to use techniques to communicate better? Through them, discussions become more fluid and enjoyable. So, of course, they create an atmosphere of confidence… but is it really a problem to want the person we are talking to does not perceive us as a threat (especially if we only have good intentions) ? If you criticize the game for that, then you must also criticize politicians, salespeople, marketers, spin doctors… otherwise you are in bad faith.
In fact, I would even say that we all must be aware that if we think like that we are all manipulated on a daily basis… and that we manipulate others too (often without even knowing it), depending on how we turn our sentences. Let's take a simple example: a parent tells his child "I'd like you to put your room up. You do not HAVE TO do it, but it would still be a good thing…" Well, there's manipulation.
To open your eyes, read Les influences sournoises by Jean-Léon Beauvois (a psychologist from Aix). This book explains that the society in which we live is not as neutral as we generally think and decrypts many of these mechanisms that are in charge of (slyly)  influencing us… You will understand that as soon as you watch TV, advertisements, or even that you go out of your house… you are manipulated.
The result is that we all have, on ourselves and on others, false ideas, oriented by the social game that makes us believe in psychological realities. Beauvois also warns about the phenomenon of internalisation, which sometimes makes us accept, make ours, and even claim things as personal ideas, whereas these are only things we have been persuaded (and sometimes even against our own interest… that's why we have to learn to think for ourselves!)
The game, therefore, is not a series of techniques without logic (contrary to preconceived ideas): it is a way of learning to reveal oneself. To emphasize one's personalit, to provoke one's chance and then to communicate intelligently to discover the other and make him/her want to know us in return. Certainly, we try to present ourselves in a day that is advantageous to us, but that is all you can accuse us of. And it's hardly any different, certainly no worse, than a chick who puts on heels of 10 cm or who makes a lot make-up, or who gets prostheses, or all together. Because if we think like that, it could be said that it is manipulation too… to make a man get hard… it's ridiculous !
Speed seduction: prejudices
We are also criticized for using NLP and hypnosis to manipulate people to make them do what we want. This argument reveals a lack of knowledge about NLP and hypnosis: even an asshole who could not read could have watched episode 18 of Mentalist's season 1 and would suspect that one can not make someone do something he/she does not want to do in fact. Except with a brainwashing, but this is yet another degree of manipulation and it takes a lot of technical resources to achieve it.
In addition, NLP and hypnosis are very difficult to master: this is not what comes to my mind spontaneously when I talk about the game, it would rather be develop your nerve, your self-confidence, opening your mind… there's nothing magical about it. Be aware, however, that this part of seduction based on hypnosis and NLP, mysterious and almost legendary, is what we call "dark seduction". This is not the best facet of the game and many players even refuse to initiate!
A PUA lies to have sex
A guy is a PUA when he satisfies his need for affection, for sex, that he has learned life a little bit and that he is well in his head. There is no manipulation in it… when one gets to be free in his mind, he does not care about the opinion of others (especially those who have understood nothing). So we do not need to lie like sex-starved people. We make our best proposal, card on table, sometimes disconcerting of simplicity and we seek people like us who have managed to free themselves from diktats, social pressure, and all those prisons of glasses that prevent us from really living. We also sometimes try to open the eyes to peopl… it seems to me to be a noble fight!
A PUA is not a heartless man who abuses his new acquaintances: normally, when you have been really humiliated (by women in this case because they are not tender with us on the field), it makes you more humble, more humane. Finally, that was my case. I was able to overcome a lot of my neuroses thanks to the game, so I do not want to make people suffer, I rather try to do some good around me.
The game is a scam
The game is one of the least costly and the more effective forms of personal development that exists. It certainly made it possible to avoid quite a lot of suicides, unlike the psychoanalysts who take the money of their patients for just waiting for a miraculous cure…
True, the pickup can create some neuroses (I think of those guys who know all the acronyms by heart and split their hair when they talk to a girl) but eventually we overcome our obstacles and heals more problems (and more serious one) than we create.
Now, I will not tell you that there are only choir children in the seduction community. Some have detected a vein and just want to make money on the back of desperate guys. There are some who are bad but who think they are good. Against them, it is up to you to be discerning, because it is a little bit a jungle: there is what works and scams (be aware that if you see a miracle or infallible method, it smells bad). But if the proposed content is serious and not a fucking joke, yes, it works… I am living proof.
And in addition, it helps people who are trained to be a little less manipulable/influencable. Because an alpha, supposedly, is not a sucker that is easily manipulated.