Ebook : Secrets for seducing on the Internet… 
Free and effective ways to pick up girls on the Internet!
When you send a message on the Internet, do the women you like answer your e-mails ? Do the women you like send the first message ? Or are you a little discouraged, for lack of good results ?
Got tired of losing your time in clubs ? Got tired of spending €30 / a month on dating sites to succeed only very rarely? Or are you just looking for love (but not at all costs)?
Only 3% of men succeed in online dating… you can become one of them!
It is easier to seduce hotties on-line than in a club. Especially for beginners. And in this ebook, I plan to teach you how to do it FREE OF CHARGE.
I want to make you live delicious and hot moments with women whom you would probably never have met in your daily life…
This ebook gives all the explanations and the advice that a guy needs to make many interesting meetings on the dating sites (free or not) and the social networks. And especially to undress her after the date !
If all the guys had read these advice, seduction would be different on the Internet and would have another image. The game is about to change for you…
With this book, you'll :
– understand the women on the dating sites ;
– adopt a good on-line attitude ;
– create a profile that makes a good first impression ;
– choose good photos ;
– determine if a photo is effective or not ;
– choose a good nickname (to be catchy and not ridiculous) ;
– write an irresistible profile, understand it has to communicate ;
– send messages that hold women's attention ;
– properly manage the first calls and the dates ;
– seduce on Adopt (adoptaguy), Badoo, Meetic, Tinder, Facebook, plentyoffish, OKcupid… any site in fact ;
– optimize your Facebook profile and seduce more women on-line & free of charge (or even make a better impression when you give your FB to a girl met in the street or in a bar) ;
– avoid swindles and on-line disappointments ;
– reopen women who did not answer without being needy ;
– get dates and sleep with them at the first date if you want it ;
– make her come to your place or getting invited at her home and fuck her directly ;
– create a profile that makes you become the "prize" ;
– use my 2 super-secret techniques to so much excite women on the Internet that they will jump on you during the first date ;
– understand why you do not need to pay to seduce on the Internet ;
– read my personal profile (=> 5FC/week), the typical messages I send;
– learn how to pick up with the social networks (in particular, the poke) ;
– use my funny openers;
– adapt these techniques to any support to be able to pick up wherever thanks to them;
– see how the average guys behave on the dating sites and understand how to take out your pin of the game ;
– etc.
Who am I ?
If seduction was something taught at the university, then online pick up would be my strong suit. If you have read my Diary of a French PUA, you know that approximately 50% of the women I've slept with, I have seduced them on the Internet and WITHOUT PAYING ANYTHING. You also know that it is on the Internet that I've found love : a cute and smart girl, and it lasts   for 1,5 year now. And you know that I've made outstanding experiences thanks to online pick up (like threesome, foursomes…)
After a few years of practice, I saw a plan taking shape. I discovered what kinds of messages I could send to women to draw their attention and stand out, then to obtain their FB, their number, pictures of them naked, dates or to directly make them come to my place, etc. Then, I created a technique to still improve my Game : a way of writing a profile that can make you, guys, become "the prize" so girls make the first step.
My specialty, you certainly know it, is to sleep with girls met on Internet at the first date. Even to make them come to my place or to go to their place directly and to fuck them ten minutes later. Between you and me, I have no great powers… I just worked hard to get to this point!
The ebook you get ready to read is the crowning of more than five years of trying to pick up on the Internet, more than 100 undressed women and some couple relationships (at least one very strong). I am now ready to share with you all the secrets that allowed me to get to this point because I will not really need it anymore, I hope.
What is amazing with online pick up, it's that you can have a practice whenever, quietly. You can work on it from any location where there is some network. It is very practical.
It is easier and it pays more than "on the field" pickup for beginners (because rejection is virtual)… and these easy successes they will have with great girls will allow them to improve their confidence and to become more successful IRL. It is a virtuous circle. Online pick up is also a good complement for the good seducers who would want to deal with the subject.
It is very easy to have a date every night if we follow the rules imposed by women… less easy to fuck them all… and even less easy to don't get plucked – in every sense of the word and especially monetarily speaking. But I think I have become really good at this game : I can now make some good girls come over, or getting invited to their home, when I want. A simple Internet connection is enough for me. I am going to explain all this stuff.
However, I do not want you to use online pick up as an excuse to stay home doing some intellectual masturbation. You can use it to bang beautiful women met online and then be enough confident to go out and do the same thing in a bar or in a street.
Just so we're clear on that : when you will be really good, it will be no more than a complement to your Game. A new underwear string to your bow. Internet does not replace field in the sense that you need a "social intelligence" that can only be acquired on contact with real people. So, if you only work on the Internet, you're going to do some shit in front of the girls and thus to waste most of your dates. With that said, if you just want to get married, it can be enough. As Jean-Claude Dusse says so well "with a misunderstand, everything can work".
All the women are not interesting nor attractive on the Internet… OK, I totally agree! But in the crowd, it is possible to find some amazing women and to have loads of fun. I am going to help you to recognize them and to tempt them to do something naughty with you naked!
Thanks to the techniques of communication and to the principles of feminine psychology (adaptation of the rules of the Game to online pickup) that I am going to teach you in this book, you will have only few efforts to make to be very regularly served on a silly platter (fresh gazelles on the menu)!
I want this book to be rock-solid investment! So, this work will give you key in hand, step by step, message after message, an effective method to fuck pretty girls without much effort. It is not a dream, it's reality ! Then, it will be up to you to start, or not, a more serious relationship with these girls.
I even decided to pass my powerful and secret technique on to you, the most powerful thing I know, it will allow you thanks to some copied-pasted to turn on girls so much on the Internet… that during the date: they will come with the impression you already know each other and with the desire of fucking you ASAP (as soon as possible). Those who read my blog, my free ebooks or even my other on-line products know that I never say bullshit and that I always keep promises. Then realize that all this stuff is not marketing claptrap (like the shit a lot of other coaches like to promise), but a possible reality that open its arms to you!
The ball is now very clearly in your court : I know that you're going to enjoy this book and that it will largely help you to have the success you deserve with women ! It is called the universe of the possible. You can continue your reading and your Game will be improved forever or  you can close this file and continue with your usual Game just as it is.
Many people have unfavorable bias against online pick up. Many women (men a little bit less) have difficulty in assuming and in saying to their friend that they registered on a dating site or that the charming guy they have met… they in fact met him on the Internet!
The reason is simple: most of people (and especially women) do not want to have the impression that they need Internet to get dates. The world changes very fast but people do not follow at the same speed. It is not something new : at one time, certain people were burned because they had dared to claim that the Earth is a sphere. But if you are an intelligent opportunist of today, then not only you do not risk to finish on the stake… but in addition you have already understood that you have much to gain in learning how to use Internet in your advantage (you can make money,  meet women…)
I'm not gonna lie, you will also fall on girls a little disturbed if you pick up very often on the Internet. It's statistics. Women are sometimes afraid of falling on a psychopath who is going to rape them. But I think that if it is all that they are afraid of, they have more chances to find him in their favorite bar. Because the good news it that, on the Internet, you can detect and easily avoid negative people (and moreover, you cannot end up with GHB in your drink).
Wonder what motivated this person to use a dating site? If she is really hot, for example, why would she pick up on the Internet while she just has to go out in a bar to get picked up ? Every girl can have her own reasons: some live at their parent's or have a fascinating work and cannot go out anytime, others do not drink alcohol and seeing a lot of drunk people gets on their nerves, others live in Marseille (city with insecurity) and are afraid of being assaulted if they go out… Anyway, try to understand her motivations… they are maybe healthy (or she simply has the right to be a nymphomaniac, don't judge her).
Do you see everything on the photos? If you can only see her face, wonder if she is not obese or handicapped. Some hide it shamefully… and once they have seen that the guy in front of her is not happy, they say it is a shame that he does not want to go any farther with her because of their overweight or their handicap. But maybe that the guy simply would have loved to do not be caught by surprise !
If she is ugly on certain photos, know that often girls look IRL like on the worst photo you can find on their online profile (on FB, that's not true). Be alert anyway !
Is she "teasing" you a little bit too much ? Does she emphasizes her butt and her tits on every pictures ? Any excess is not normal. Not necessarily eliminatory, but in case of doubt, it is necessary to dig the question before meeting her.
Does she takes all her photos alone, at her place, in her bathroom? And if yes, why ? I do not want you to become paranoiac, but be wary. Internet is a jungle : what presents many advantages and some inconveniences. In other words, online dating is a game that can be dangerous if we take it lightly. You know, there are also girls who harass guys when they have their address or their phone number : guys are not the  only people which can prove to be possessive starved persons. Thus, a minimum of precautions is mother of safety.
The bigger your city, as a general rule, the better your chances to find beautiful interesting women. It's statistics (the ambient mentality comes into account too).
Finally, good seducers, generally, don't like online pick up. As a consequence, you will have few competition on these sites if you can achieve a good level. And you will easily take out your pin of the game!
Before going in a party to get picked up, women are accustomed to spending 2 hours in the bathroom. All this to finally undergo awkward assaults all night long hoping that a "good guy" finally comes and approaches them.
The thing is that, often, "good guys" do not approach. Exactly, many good guys have for faith that approaching is "disturbing" and do not want to bother girls (many contend that they just go out to dance or to listen to music or to speak with her friends). Rare are the good guys without inhibitions (in a society where the morons of the reality TV are set up as models) or who know the Game (to get ready to overcome their approach anxiety). Then, those who approach are often big badly educated jerks who are sent to hell (or get kissed if the girl is discouraged). By seeing these guys who dare to approach being sent to hell 99 % of time, it gets away any envy to the well raised and a little bit shy guy to be turned into cannon fodder. Exactly, because he, he is endowed with a brain in working order.
What the hell is going on ? A general misunderstanding. Masses of girls who wait that the guys they like come talking to them, thing they could never do themselves because of approach anxiety. They think they are the only sex that can feel it ? Roughly, in a time when we speak about gender equality, the guys still have to do what women do not dare do, otherwise they are not men,  I mean "real men"! Can we say that a woman who doesn't cook has no pussy ? Because, often, I hear girls saying that the guys who do not dare to approach them have no balls. Which just goes to show that in the feminization, they really take only what arranges them…
On the Internet, women feel more at ease (no need to spend 2 hours in the bathroom) and moreover, they are a little more active in their researches (because more comfortable). Women who join dating sites are "applicant" (even if they have difficulty in assuming it, they will have difficulty in claiming that they are just here for the music), they thus already turned a corner in their head. This way, online pick up has the potential to move us (men and women) closer by allowing them to jump the stage of "approaching"… but online dating is unfortunately now in the collective unconscious associated with the clumsy womanizer. Indeed, for some : if you approach you are you a jerk who tries to pick up everything that moves so without interest… but if you don't approach, you are a guy without balls thus without interest. Kind of traumatizing. In brief, for a lot of people, the field of the possible loving meetings limits itself to the friends of friends and to people who study or work with them : spontaneous and a priori disinterested meetings. It is limited and especially we really have no control on it.
Roughly, I think that by simplifying the equation one can find his/her way. Indeed, online dating allows those who know how to use it to reach directly the stage of the date by jumping this fucking "ice breaking" stage that raises so many problems in our society.
This book aims to teach you how to pick up free of charge on the Internet, as classy as a PUA. Just like Dark Vador, I wish to transmit here everything I know to my padawans. I will deal with the case of the free dating sites and applications… and of the social networks (free ones). Of course, all these techniques also work on paying sites : but once you'll see that you don't need to pay in order to fuck seduce, you will ignore them, I'm sure.
It is necessary to understand the underlying principle to all the sellers of meetings: because the guys are more numerous on a dating site, it is necessary to make it free for women so that women come. Women who will make come more guys who… them… will pay. It is inequitable but it is exactly the same principle as in these clubs I hate : "free entrance for girls" or "free champagne for girls". Where I live, the entrance in a club costs 20€, what means that one MONTH of online pickup is not more expensive than 2 nights in a club. Anyway, if we accept this system, we are suckers, money pits. And the worst thing, it is that all these people do not have any interest in the fact that we meet love because then we would not come back on their site or in their club. Do you understand the problem ? Cool.
Paying sites tend to have more money, so are able to advertise more widelty : they claim they have quality women, women who, of course, take online dating way more seriously than on any other dating site… The truth is that "no". This whole thing is fake. On one hand, because often women can join free of charge thus they have no reason for taking it more seriously than somewhere else. Then, because there are lots of fake women on these sites, fake profiles, supposed to incite you to join… or then real profiles but women who do not connect any more for years. Finally, because, sincerely, the women who join on this kind of sites to find rich guys are more discouraged and old on average than somewhere else. You won't sink to that all the same!
There are certainly serious paying and quality dating sites… but they are rare. It is a business above all. So statistically, you are more likely to get it in the neck. Besides, I know some guys who paid 30€ a month or more to subscribe on a site then discovered with bewilderment that in fact there was only three people in their area registered on it (if you don't live in a big city, it is quite likely that it will to you). Statistically, that is not worth it (unless you agree to add to the price of the registration, the price of the train ticket).
There are many traps in the world of online pick up, so in a general way, avoid paying, giving the code of your credit card… and you will avoid a lot of problems.
If you decide to pay to register you somewhere, use a secure platform, like Google Play for Adoptaguy : so they will not directly have access to your personal information and cannot renew your subscription infinitely (by ignoring your e-mails of cancellation). I've read on some forums that it had already happened to some guys. If it is impossible and if you all the same want to join (sic) verify that the transaction will be secured (https://) in the address bar.
In France, I use my free account on Adopt. Also apps like Tinder. And Facebook (by far what made me meet most women). Obviously, the combination of several sites will considerably increase your chances for success with girls.
It seems that on the international stage, PlentyofFish and Okcupid are interesting. But in France, at least in South of French, very few women are registered on these dating sites thus their interest is limited (except maybe if you want to date foreigners).
Women have the power in seduction, we know that for a long time at a profound level. But on the dating sites, it is the even worse than somewhere else. Us, men, are thus perfect targets for getting plucked. I led a little experiment so that you became aware of the scale of the phenomenon (sic).
Little experiment :
* A profile of cute woman that was created 24 hours ago on POF (not very active site in France but totally free thus pefect for my experience) has already received:
– Visits : 189
– Likes : + 99 (the site cannot be more precise)
– Messages : 124
* A profile of cute guy (I uploaded the photo of a buddy that girls generally find hot) that was created 24 hours ago on POF only received:
– Visits : 11
– Likes : 1
– Messages : 0
I visited 100 male profiles with the female profile and 100 female profiles with the male profile just to launch the project and to observe the reactions. Knowing that, although it is not comparable, we could say that the guy is hotter than the girl. That's what gives pause for thought… But don't worry, after having read this ebook, you will have understood why.
I am now going to show you some screenshots (so you can see the kind of messages I receive thanks to my techniques). Of course, you too, you can do the same thing. I am not Bradley Cooper nor Leonardo Di Caprio. On the other hand, it is obvious that a book just like the one you are about to download will help you a lot.
(sorry if the screenshots are in French, but I'll translate the key sentences).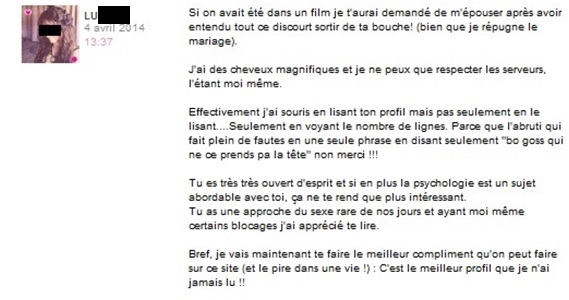 "It's the best profile I have ever read !!"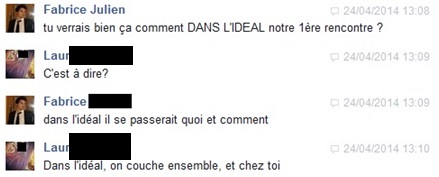 "In a perfect world, what would happen during our first date ?
– In a perfect world, we would sleep together, at your place"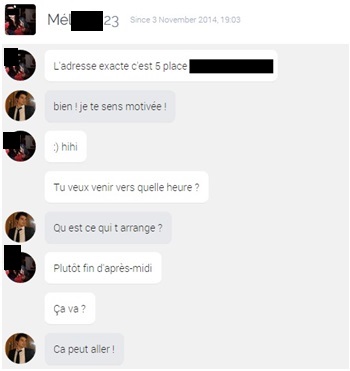 "At what time do you want to come over ?"

"Can I interest you in a blowjob ?"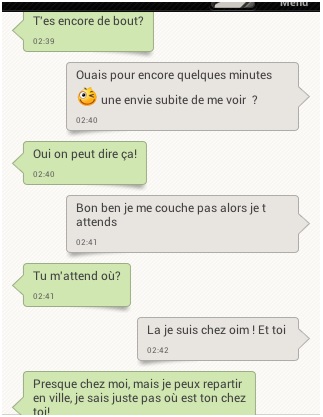 "I'm almost returned home now, but I still can go back in town, I just don't know where's your place!"

"If you fuck girls as you write, I'm missing perfection … ;)"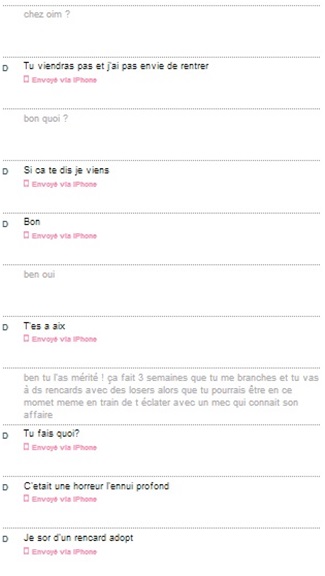 "I was on a date… so boring
– you deserved it, I'm trying to fuck you for 3 weeks… and you, you go on dates with losers. You could be having great sex at the moment
– Are you home? Aix ?
– Yes I am
–  Well, if you want I can visit you… I don't wanna go to bed and you will never come to Marseille
– True. I'm waiting for you"

"Hello how are you ? Do you want to know me better ?"
All these girls who poke me… what a delight! Btw, the ebook is in English… and the techniques I use in France works as well as intended in other countries !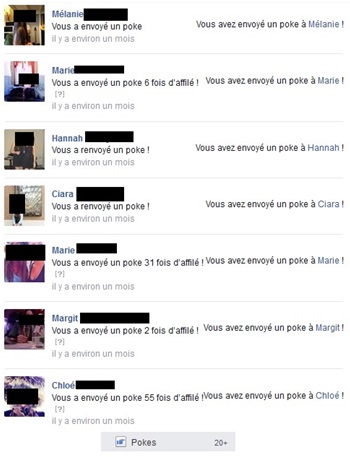 Still need to be convinced?
Here is a free extract of the ebook.
To read the complete version, use the button below!
It's only €46… introductory price (the 60 I guess). Look, it's cheaper than 2 months of online dating and in addition you will have results now… See ya !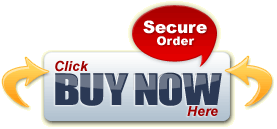 Bravo for purchasing, and see you soon.