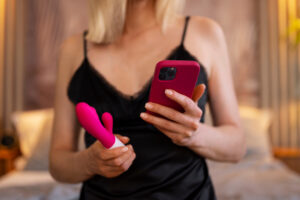 Men and women under 30 love SMS. Many people would like to master the art of turning someone on with messages (it works for your target or your girlfriend). So I here will give you some examples of ready to use sextos !
Definition and origin
According to Wikipedia, "sexting" (also known as "textopornography" or "sextage") is the act of sending sexually explicit texts or photographs… in French, we call it "sextos". But, by extension, it can be said that one sends sextos when one warms someone on the dating apps.
The term appeared in 2005 in Australia in an article in The Daily Telegraph (Sunday magazine issue).
Interest
The phone call can sometimes be perceived as intrusive, while the e-mail is something more "professional". The SMS, meanwhile, is a perfect compromise to discreetly excite a person.
Kinky texting is a good way to create and feed sexual tension. They are very useful: in the past, we used the letters of love… it is in fact an adaptation of a human need (writing is an awesome weapon of seduction) to new technologies.
The objectives of sextos
The goals of a sexto are to talk about your desires, to seduce, to arouse sexual arousal, to play and to strengthen the bond with the other. The point  is to sexualize the conversation and create some intimacy, a sexual complicity, between you two.
Another objective is to make the other person visualize the act. Indeed, know that if you have already slept on the phone with a girl, you will sleep more easily with her in real life.
How to write and send good sextos
It's not always easy to send a good sexto. What to start with ? How do we know if we're going too hard, too dirty? I will now give you tips to put all the odds on your side. Nevertheless, you must keep in mind that, this kind of thing, it happens or breaks (fortunately it happens more often than it breaks)…
Avoid nevertheless sending photos of your cock (let a certain mystery and frustrate a little bit the other one). But if you decide to do it anyway, make sure one cannot see your face and your cock on the same picture.
First, let it go, forget your inhibitions, feel the ground, be bold and go further and further. Do not send anything to a girl you hardly know… go ahead and see how she answers. Depending on her open-mindedness and responsiveness to your advances, you need to move a gear or take a little more time. Above all, avoid being too vulgar before knowing if she likes it: some prefer erotic sextos while others adore when it is downright pornographic… here is a perfect opportunity to disinhibit and test your sexual compatibility with the other!
Timing is also very important: try sending your messages at times when both of you are available to answer quickly. In fact, it is often necessary to "sextotate", that is to say sending a series of sextos, to achieve a good degree of excitement.
Then, keep in mind that there is a huge difference between "writing sextos" and "sending sweet words". I do not advise you to play it mushy (the goal is to turn her on) nor to be too salacious too fast (you don't want to scare her). Nevertheless, you must be believed, sincere, frank, direct, etc. In short, do not try to make complicated innuendo… be explicit!
Finally, remember that even if the goal is to be direct and confident, you must always consider the desires, fantasies and preferences of your partner. It is useless to try to excite her by telling her that you would like to sodomize her on the coffee table of her living room if she does not like anal…
Examples of sextos
"I want you. Do you know what I would do if you were next to me?"
"I imagine your caresses and your tongue on my body… I  am becoming very hard."
"I'll take my shower, wanna come?"
"I'm very hungry, I could devour you entirely."
"Think of something kinky and I'll do it to you tonight. You have my word."
"What color are your underwear?"
 "I want to put a good spanking on you. You excite me."
"I'm naked in my bed… thinking about you and it makes me feel good."
"Did you know I love to massage?"
"Do you remember when I licked you up to orgasm the other night?"