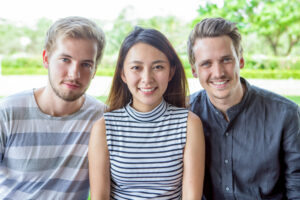 November 9th 2015,
Friday night, a girl from Adopteunmec came to my house. The original thing is that the next day she had a date with my friend The Nice Giant (but she did not know I knew him). One must be very naive to believe that chicks never play on several tables at the same time!
Preliminary Preamble: I had so warmed her by texts that we had agreed that I would welcome her in the dark and that we would fuck right away.
To turn me on, she had written me naughty stuff too. Here is an excerpt from her prose "You will invite me to your home, but when you'll open the door to me, you will have only a few minutes to look at me because I will waste no time before pushing you against the wall, then with my scarf I will blindfold you and then whisper in your ear that I will deprive you of a sens for the others to be more developed. Then I will kiss you with desire, and you will have only one desire, putting your hands on me to feel my curves, but I will hold them to make it impossible for you and your desire for me will rise even faster… then while holding your hands in mine against the wall I will go down with my mouth, on your neck, on your chest, your belly and then kneel before you. I will let your hands free to unbutton your pants, you will pass your hands in my hair, I will pass a hand on your boxer really molding to feel how much you desire me, then I'll remove it and begin to shake, your breath will accelerate thanks to this feeling, I will not be able wait to put my lips on your sex so hard, while continuing to use my hands before putting it in my mouth: I will feel that you are craving for touching me but I will only let you caress me the hair. Then I will decide to lie you down on the bed, climbing on you using my hands to make your body even more shuddering, I will grab your cock to penetrate me, then move back and forth. I will take your hands and put them on me, on my tits: you will caress me with delicacy to try to guess the shapes of my body, my movements will be faster and faster, more and more sensual and so full of excitement, that I shall groan with pleasure. You will enjoy hearing me expressing my desire, you will not be able to wait any more, you will remove the headscarf to see me and you will return me on the bed to take me in doggy style: the way you will cling to my buttocks and my hair will excite me and make me cry still stronger. I will not be able to refrain any more, I will come and it will excite you so much to see me orgasming that you will come too…"
Just before she came over, she asked me if I wanted to know her measurements in advance and I said "no I'll see." She told me that it had motivated her to have sex with me because, usually, guys want to know everything… yeah, the PUA is the exception, he is a player!
The thing is that the corridor of the hall before entering my house is always illuminated so I could see that she was not bad before opening my door (it is a kind of security lock). She was about 1m70 for 60kg…
Once the girl in my house « Do you want to take off your jacket?
– Yes. » She threw it on the floor. « Do you want to take off your sweater now?
– Yes. » She pulled me towards her and kissed me. She was hungry for sex. So much that I caressed her clit, her tits and put fingers directly in a soaked pussy after 30 seconds.
Then she dropped to my feet for a blowjob. It was impossible to resist her, she is good at it. What really made me crazy is that she spit on my dick before pumping…
After a while, I turned her over like a pancake to finger her and stroke her clit against the wall: she was too excited. She trembled from head to foot.
Then I licked her on my bed. Then she sucked me and I fingered her at the same time. I even put three fingers into her.
At one point, she turned around, showed me her muscled ass and rubbed it against my cock. After a long minute, she grabbed my cock in her hand and put it in her pussy. I was too excited and everything then I let her do (moment of weakness)… and I fucked without a condom AGAIN ! FUCK !!! I knew at the time that I would regret it after. Fortunately, at least she takes the pill. At the beginning, I said to myself « just ten seconds for the pleasure then I go out » but I could not stop … classic. Like what, there are forces beyond us…
Well, she said she did STD tests three months ago (like me actually), and planned to do some again in early December (I'll keep in touch with her by then). If that's true, it's OK, there's definitely no risk. But hey… I'm still a little afraid that she says the same thing to all the guys, at the rate of two per weekend.
In any case, let's REMEMBER THE POSITIVE: having sex without a condom, it's awesome!
During the post-coital hug, she asked me what I was going to do this weekend, especially on Saturday night. I honestly answered that I was going out to pick-up chicks and then asked her the same question, casually. She replied "just my boxes because I will move". I thought "and fucking my friend too, little liar". Yes, I'm a bitch…
Otherwise, she told me that at noon she goes home during her lunch break and touches herself because she is always excited! She also told me how her bosses try to fuck her. Another thing: she told me that the guys usually get sucked but do not make the efforts of giving her pleasure in return. She also told me that sometimes she went right in front of guys and then turned back at the last moment because she had a bad feeling… Her northern accent as she told me about her life made me laugh.
When she left, she asked me when she could come back and I answered "whenever you want, but maybe there will be another girl and we will make threesome" with my legendary tact. She then told me that she had done her first time at 13 with a girl and that it tempts her to make a threesome with a girlfriend and me.
This is also what my little teacher who had brought me chouquettes would like, so let's say God works in mysterious ways. By the way, with The Teacher, we went out on Saturday night. On a free barge-nightclub, looking for a chick for a 3some. I love to hunt with a chick and a fortiori with a hottie. The approach was « do you find my girlfriend sexy? » We were entitled to quite a lot of "pretty, sublime", a few non-responses and, of course, we were called several times perverts. Some of them have even felt insulted when they were offered to fuck with us and have made a scandal. What was very fun was that my buddy had a lot of approach anxiety at the beginning : so I had to coach her. She was full of excuses to do not approach and everything, just like a guy!
We finally went home, just the two of us, it was 3am, and she sucked me there. I made her orgasm too. Several times. Then we spent the day of Sunday having sex. It was nice ! She's really too hot! Between two ejaculations, I registered her as a dyke on Tinder so she finds us a chick for a threesome or a couple for a foursome.
Finally… for information, the girl I fucked on Friday night flaked my giant buddy. She made the usual bitchy trick : planning a date a few days in advance and then no longer answering his texts on D-Day. What reassures me about STDs: she claimed she only fucked 2/3 guys since her six-year relationship ended last May and have since taken refuge in the sport (mostly dancing, almost every night). I tell myself that I can perhaps believe her and be more serene.
At work, it does not go very well. In fact, my work is OK, I'm starting to manage some files all alone without error. But I have two colleagues who felt a malaise last week (they almost collapsed). It's scary!
Finally, know that the interview of Snipe (Pick-up podcast) is ready to be upload, I'm just waiting for his final authorisation.
See ya !
May the God of Game and STD be with us!