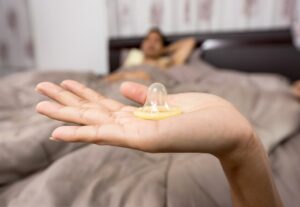 We often read that you should always put condoms, if not you are a monster who has AIDS. I want to relativize everything. Once more time, I wanna carry the opposite of the single thought… (put I put condoms)
AIDS (HIV) : you're unlikely to catch it…
First of all, my generation is hyper-sensitized to AIDS. But there's not much cases in fact. I quote sidaction website:
"The most affected regions are Ile-de-France (44%) and overseas departments (8%). The PACA region is the second region of metropolitan France the most affected by the epidemic with an HIV discovery rate of 109 per million inhabitants. "
There's approximately 5 million people in PACA, it therefore makes 545 cases in one of the most affected regions. Not huge.
In France there are 67 million people, it means 7,300 cases. It would be really bad luck…
"Despite the finding of a trivialization of targeted prevention strategies, youth continue to be concerned: 11% of those who discovered their HIV are between 15 and 24 years. But senior citizens are more concerned, since 20% are 50 or older. "
It's hard for the 11% … by the way, that does not make me want to bang more milf.
"Among those who discovered their HIV status:
– 56% are heterosexual (39% foreign born, mostly in sub-Saharan Africa and 17% in France);
– 42% are men who have sex with men;
– 1% are drug users. "
Finally, for prevention, rather prefer partners born in France, who do not take drugs and heterosexual.
There's then 0.20% of transmission probability for the insertive vaginal sex. I specify for idiots that someone who does not have AIDS cannot transmit it.
I'm not saying condoms are useless, be careful, but I'm saying that's not the AIDS you should fear the most.
Effective against other STDs and STIs
Do not ask me the difference between STDs and STIs, I don't know. And I don't give a shit.
I have had the misfortune of catching some kind of crappy stuff like papillomavirus or balanitis. And kinda quickly, after only a few unprotected sex with a girl who did not know she had it. Testing Center, they looked for hepatitis, AIDS and everything and said we could go for it with no risk… and then I caught those shit because of their negligence. After that, it was a hassle to get rid of it!
I condemn here hyper-sensitivity against AIDS but the neglect of the rest of crap lying around. Who are not serious (they did not have to cut my dick) but well. The warm piss or whatever, I do not really want to catch that kind of stuff.
My conclusion here is that it is better to seek advice from a gynecologist (for chicks) or a general docteur at least for the guys with complete analysis before saying that we have nothing.
My second conclusion here is to go seeing a docteur if we had problems with a ladle girl. The kind of girl who jumps on you to warm you then who sinks without a condom on your cock. You do not have time to react. After that, it's hard to stop and you're trapped and you feel guilty. One may wonder if the girl acted like that with all the guys or anything… that is frightening!
The condom as contraception
Sometimes girls want to fuck without condoms but do not take the pill. It's not a good idea because they can be fertilized by the drops of pre-ejaculatory semen. Some do not even know it… in this case, I recommend the morning after pill.
If the girl does not take the pill, no unprotected sex! Except blowjobs… (sometimes society is trying to scare us by saying that we can catch AIDS through oral sex or stuff like that… but frankly I've always been sucked without and I've never had anything caught like this!) Some wanted to suck me a condom hood but I laughed in their faces: if you're scared of everything, you will do nothing in life (when I say that our society is hyper-anxiety). And for eating you out, I put a condom on my tongue or not? And a sextoy can give AIDS ? Ahhh, she does not know what to reply now, Marisol Touraine!
It's the guys who have to wear it
I think it is my role to put the condom, despite the existence of the female condom and all that stuff… because they must already suffer their periods, the pregnancy and everything. We owe them that…
Have condoms with you because it will reassure the chicks to see them. They will say to themselves that you are serious about it. You will score points !!!
The condom as a religion
You should not not believe that the condom is infallible. There's stuff that pass through, it can break, etc. And it's not worth doing an anxiety attack if ever it happens (unless you were banging a prostitute in South America – don't laugh it happened to a friend who did not practice the game – he would not have to pay if he did).
You will not either drop dead if you fornicate unprotected with a girl who has a shit. Must not be alarmist all the time, to those who say "do not play with your life" … I answer "I am willing to make an effort but when it's your time it's your time."
Finally, as always, I advise to stay realistic, going back and forth two or three times without condom in a pussy is not like three or four complete unprotected fucks in the same pussy in terms of statistical risk.
When I told my dad that I was afraid to have AIDS because I fucked a black without protection, he laughed at me, saying that in his time almost nobody put that. We are paranoid !!!
But let's go to screening all the same : if we could eradicate this shit, it would be cool (too bad there's not STD that will make our dicks bigger) ! And more important if we have partners we fuck without it often, we owe them that (respect) !
More informations : the awesome lover's manual !
Sometimes it makes one feel good to feel a girl without condom.