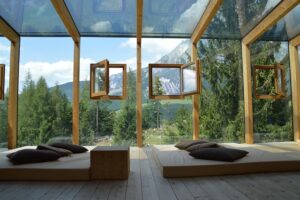 In my opinion, the question of logistics is what shows that most that the pickup is inseparable from personal development.
If one has not good logistics, it will be harder. Logistics is a reflection of the lifestyle, so it makes sense.
Living in an apartment in the city center, close to cool stuff to do, a nice bar at least, will greatly simplify your life.
Flatshare
In Aix, I lived at 5 minutes walk away from La Rotonde (for those who know it). So it was easy to bring chicks home. Easy access for them to come directly to my place too. In short, easy to fuck.
I was in a flatshare. With guys and girls. The guys understood that I bring chicks. Girls, oddly, did not care too. Must say that from the fourth in one month, they were jaded.
But to avoid uncomfortable feelings, I went straight to my room with the girls… and then that's it. It even made an excuse to sit immediately on my bed with a drink.
In this way, my ephemeral beloved did not meet my roommates. It was like if they were my neighbors. Chicks could keep a sense of anonymity too. Which prevents feeling any judgment…
Then, I think it depends on the apartment anyway. Mine was well insulated, large enough, you could not hear their cries of pleasure.
In addition I spent nice evenings that turned into crazy parties there. My roommates were cool but I imposed from the start it would be like that, that I was a PUA and that's it. It was better than frustrating myself and blaming them for that…
With your parents
When I lived with my parents, everything was more complicated. I had to wait until they are not there or then go to the girl's place. If she lived with her parents, we also had to wait until they are not there.
But, when a couple is "official" one can fuck with the parents there if official owners of the place say it's OK. But admit it's difficult and it makes one feel uncomfortable, especially for a one-night stand. Seduction requires privacy…
In short, if you still live with your parents, think long-term. And it's not sexy for a man to be a "mama's boy." Having a place communicates independence, maturity, resourcefulness, etc.
There are chicks that will eliminate you just because you have no apartment. They will say you are not a man. There more we grow old, the more it becomes true.
When we cannot take an apartment we still can bet on alternative solutions (which still complicate the game) or we can do our best to provide the means (investment).
Alternatives
You can always try to go to the girl. And some like that, they like playing at home. But I noticed that most prefer to come to you. So you do not penetrate their privacy for a one-night stand (paradoxical, I agree).
The solution may be to warm them and tempt them so they will drop their principles and invite you to their homes so much they will want to "know you better."
Otherwise, the solution remains neutral places.
I've already fucked in the street, cinema, or in my car for a first time with a girl. One of my friends without logistics did it in the toilets of a bar. I also was sucked in the high school of a girl.
I also did in the forest, in a park, the sea, in a hall, in an elevator, at the workplace, etc. I even touched a girl on the tramwau once with people around who were seeing nothing.
In short, you have to be imaginative if you have not logistics, and pray that the girl is a little adventurous !!! One can bet on it too: like, we will realize a fantasy.
But yes, it complicates everything. That's why I say that the game, it's not only fucking chicks, but also it's improving your lifestyle.
At home
In Lyon, I have an apartment located next to a metro stop of line D (easily accessible). In a quiet neighborhood … but known.
I have a clean place, a little Feng Shui, in a new building … chicks like it. They feel comfortable there. I even have some decorations that show that I'm a good guy, like a Buddha. It facilitates the F-close.
For K-closes, please note that this is not really a problem for them to do it outside.
Living alone, in addition, can motivate to practice pickup, to do not feel lonely (even if sometimes it's nice to be quiet). But living alone is also the obligations we have not at mom and dad's place: pay rent, do laundry, shopping, housekeeping…
With that said, if you have no home, you do not have to tell them and you can play on the sexual tension in order to fuck in a neutral place or at her place, saying that it is closer or whatever. But in general I guess it's better to talk about it before the date.