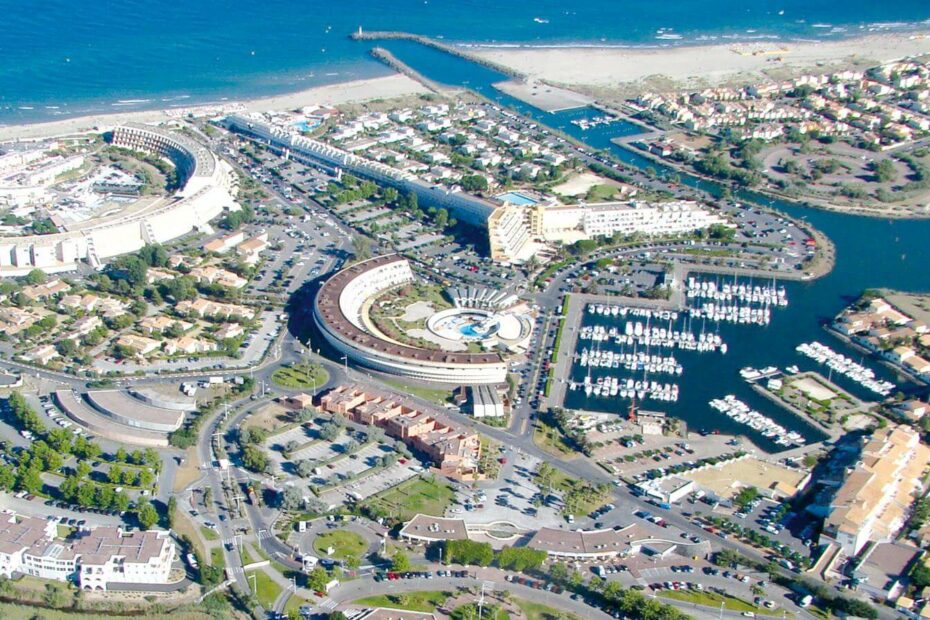 In this article, I will tell you what happens in the naturist village of Le Cap d'Agde… and I will also tell you a libertine night I spent there.
In fact, I must point out that all the Cap d'Agde is not open-minded, as one might think… It is actually rather a family destination with beaches and boats. Only an entrenched village inhabited by irreducible libertines still resists invading Puritanism.
Indeed, the entrance to the nudist village is controlled and you must paid for: it is a community that is obliged to hide and secure itself in order to live as they wish. And there are not only French: there are also Spaniards, Italians, Germans, and so on.
At the entrance to the naturist village, which is surrounded by a sort of wall, there is a ticket office that filters the pedestrian entrances (gate) and the entrances with cars (barrier). I noticed that the libertine nightlife attracts a lot of people, even among people not residing in the naturist village: the road leading to it is very busy.
To enter the valley of the wonders, one has to buy a nominative ticket of entry: identity cards are requested. It cost me 8 euros for a day but there are price lists for three days, one week, one month, a year, etc.
The atmosphere in the naturist village is very festive, the nightlife is very active. It is possible to do a lot of things: there are restaurants, clubs, etc. It is not even obligatory to walk naked in the village (this is only the case on the beach).
In the night, the girls often walk in sexy dress: often in underwear. Straight men, for their part, are in shirts and pants.
The village and beach were clean, the people were polite, respectful, etc.
I saw transvestites, groups of gays, girls disguised as cats being led on a leash, girls biking in underwear, etc.
I went to Le Glamour with my accomplice, The Teacher. It is a fairly well-known club, and we waited in line for about fifteen minutes. But it did not matter, we were able to watch a lot of hot chicks.
There were young and more mature women. There were a lot of couples and the women were pretty beautiful. There were not too many sex-starved guys.
The entrance of the club is 60 euros for a couple with two drinks (the bartender was very nice and we drank a really good champagne). 90 euros is the price for unaccompanied men and it's free for single women. From the cloakroom, anything that could be likened to a camera was forbidden. In addition, an ethical code was in order:
"FOR AN EVENING OF VOLUPTY AND PLEASURE,
WE RECOMMEND YOU TO FOLLOW THE RULES
01. The correct and sexy outfit you will need to have.
02. Respect and correction with others you will have.
03. In couple over 18 years you will be.
04. The knowledge of swinging life you will adopt.
05. Vulgarity you will forget.
06. The refinement and libertin spirit you will share.
07. The choice for women and their freedom of action you will leave.
08. Without the agreement or invitation of a woman, you will not touch.
09. When uninvited you'll join no one.
10. The restraint and discretion on your evenings you will keep."
For the anecdote, they were broadcasting an excerpt of a movie with Katsuni.
In the club, women wore outfits especially chosen for libertine nights (we recognized the neophytes in their outfits more all-purpose). Girls danced like gogo dancers (bra, string, garter belt) but it was just customers. I saw several who did not even have panties and I could admire their pussies: some find a lot of pleasure in showing off under the approving eye of their man or dancing with a girlfriend.
On the first floor, it was night club atmosphere but without the sex-starved men that usually found there. That's where we danced to get warm. Besides, over there, no judgment, if a woman wants to dance like a bitch, she can do it with impunity.
Then we went down to the basement that was dedicated to sexual acts. We bifurcated in front of a sign that indicated on one side "trios" and on the other "couples and bisexual women". At the branch, they distributed condoms, lubricant and controlled that people did not go unaccompanied. The staff did not seem to judge the guests at all.
We ended up in a long dark corridor with rooms arranged all along the sides. Most rooms were open, others were closed. Among the open rooms, there were rooms with only one mattress, others with more BDSM material.
People (there was a lot of people) walked in the corridor and stopped in front of the rooms they wanted to watch or join. Swinging is not compulsory. A couple proposed to us but even if Madame was very beautiful, The Teacher did not like Monsieur, so we declined the invitation and they did not take it badly.
We both went into a small, dark room. The Teacher sucked me and then a couple joined us. We did not understand what they were saying because they were I guess Germans but the girl was tall and pretty. She lay down beside me to get licked by her boyfriend and then put a hand on my thigh… casually. I turned my head, looked at her in the eyes and then she raised her hand to jerk me while the teacher sucked me. I then caressed her, her breasts seemed very hard, no doubt they were not natural.
Then, I went down to lick The Teacher and the Germanic caressed her clit while I fingered her, which made her come very quickly. Then, the blond unknown got into position and I also licked/fingered her to make her come.
Her guy finally took her, he came fast and they disappeared. I took her doggy-style quietly and The Teacher finished me by sucking on her knees in front of two Asian women who were taken by their guys.
It was a great experience. During this night, I really revised my definition of the word "slut": I saw real sluts, but in the good sense of the term.