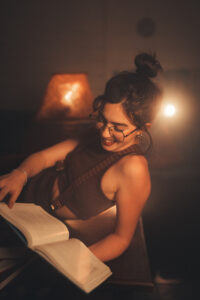 Some of my readers have seen in Secrets for seducing on the Internet or in my Diary that I am able to wet a girl (on a dating site or by texts) just by writing her an erotic text.
Then, often, those women come to me or invite me home and we fuck after a few minutes because they are hot and have the impression of having already enjoyed with me … since the text puts both of us on stage.
So my readers want to do the same. But when they try to do the same, it makes stuff like, "I'll lick 3 minutes and you will enjoy very strong and I will put my dick in your ass." I'm hardly exaggerating. Seriously, is this supposed to be exciting?
Putting the idea of ​​sex with you in her mind is a very good strategy (it can be done in many other ways than through literature, through humor as example). But we must do it in a correct way.
So I will now give you 10 tips to improve your erotic short stories.
1/ Think of the five senses
Give the sensations a special place. Emotions are queens in seduction. How do you feel when you're turned on ? Are you cramped in your jeans? How do you know she will soon orgasm? Do her legs tremble thoroughly while her abs are contracting? Play with her breath, ger cries, the undulation of her hips, etc. For more realistic details, feel free to read The awesome lover's manual !
For your descriptions of sex scenes, you need to use with emphasis hearing, touch, smell, sight and taste. It doesn't really matter if you use present, future or past. But do not mix tenses.
2/ Styling a little your text
Feel free to play with metaphors, double meanings and connotations.
And diversify your vocabulary to don't be redundant. It is too easy to always use the same words like "scream" or "orgasm"…
3/ Avoid cliché
Pay attention to your choice of words so it will not look obscene nor ridiculous, which would be counterproductive.
Do not overuse phrases like "fuck my pussy" or "drink my wet." Admittedly, in the action, words like that can be delivered so they are not completely banished … but use it sparingly. Instead: stay polite, courteous and respectful even when you describe a violent doggy with spanking and hair pulling.
4 / Stay realistic
It is better to talk about what you know. Remember your own sex sessions, your own feelings and observations in order to be as authentic as possible. Write unpretentiously but stay exciting. Embellish a little reality, of course, you have to make her dream a little!
If you do not know your sexuality, get inspired by my erotic texts (in A story of cyprine (love juice)) to see what it should look like.
Stay realistic also on the proportions of your sex and your endurance level. Same thing for the girl, if you have not slept with her yet, do not put her under pressure by letting her think that you expect she makes crazy performances.
5/ The length of the text
To get into the action, you need the text to be relatively long and detailed. It is necessary that we feel the rise of desire. For this, do not forget to describe kissing and preliminaries. But do not make it too long either, at the risk of discouraging her reading. 2 or 3 pages on Word, it's good!
6/ Details
Correctly describe the context. Where does the action take place ? At your house ? At her place ? In a car ? On a couch? One night ?
Thinking course to gestures that seem insignificant you might: they graze? Interlace their fingers? In these moments, these details are important. Give your reader want to live those magical moments with you.
7/ Narrative not teaching
When you read an erotic text, you do not want to read a biology textbook not to see the details in close-up like in a porn. Mechanics, we do not really care in those moments.
If your character is just going back and forth during half a page, it will be boring. Take her rump, grab her hands, block her face against the pillow to stimulate her ! (Don't be too dominating if you do not know her yet.)
8/ Orgasm
Remember to make orgasms more intense than the rest. All these frictions and these indecent fondling, is to get there (one or more times). Also describe the thoughts that go through you in this situation.
9/ After sex
Your text will reveal her a little more about you. About post-sex, why not taking a shower together after some discussion, both lying on the bed?
Reassure her, this is not a protocol you write, just an idea of how things could happen when you'll meet up (again or for the first time).
10/ Proofreading
Once your sex scene finished, read it aloud to judge not only its sensuality, but also its credibility! If imagining these things gives you a beginning of erection, it's good. The goal is still to wet her, if she is in a favorable context (therefore suggest her reading it rather at night after returning home or something like that).
Change words when there are repetitions, purify by removing heavy parts, tweak… and especially check the spell at least a minimum with automatic correction (eg Word).
Go for it ! Make the France wet !!!