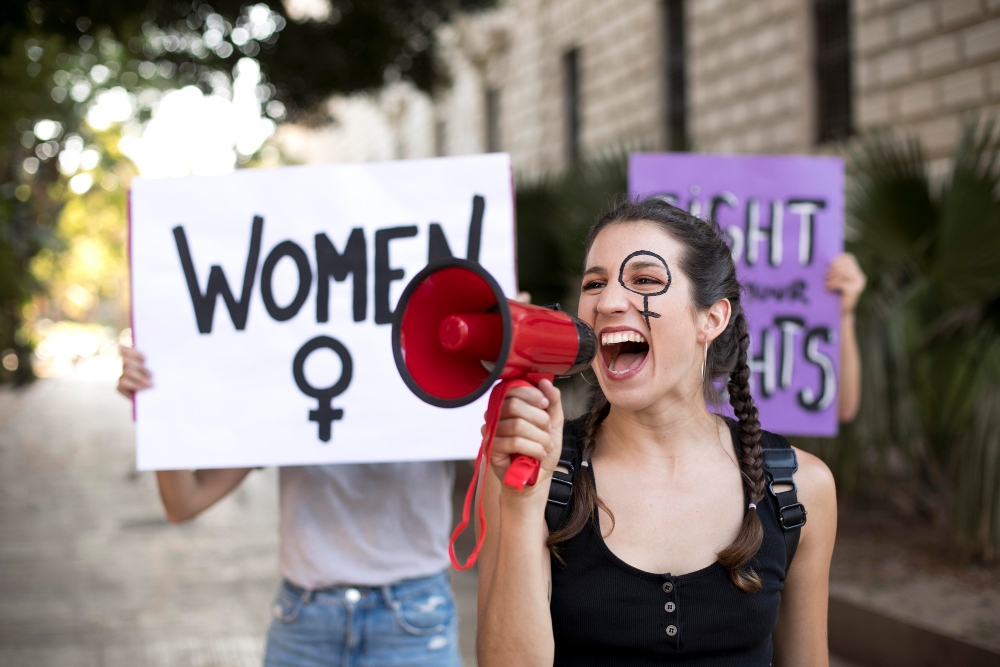 Today, I decided to take stock of what is unacceptable in a girl. I wish to speak of these little character traits and physical details that are eliminatory for me and for most members of the male sex I interviewed. I asked only players confirmed … not sex-starved who, anyway, would start in a relationship with anyone delivered with a vagina.
1 / An interested girl
I'm talking about a girl interested in our money. Who would make us pay for everything and everything. Who would play the princesses we must support … But, if she is just interested in our cock, it's all right.
2 / A girl too possessive
I have known one like that: she was all the time close to me, sit on me while I had not even finished eating, she wanted to see me all the time, etc. Leave us a little air!!! If in addition she plays on emotional blackmail or ultimatum, next!
3 / A disturbing detail on her face
This is personnal : some people it will be a big nose, others it will be a leek on the face, me … it is the hair that grows on the cheeks which cut me envy. Unfortunately, the girl help much with those thing, but she can compensate or find other guys it will not block.
4 / A green plant
This is a girl who does not speak, do not move, in short that blends into the background like an ornament… A not curious girl, who is interested in nothing in particular, who does not know where she is going in life. It does not interest us, these relationships that enrich only one of the two protagonists.
5 / An immature girl
This kind of idiot who act like teenagers while she is 25 years old, who watches seriously crappy emissions, who idolizes guys whose image is retouched by Photoshop but who did not understand that. I also fall into this category the girls who play it fashion to disguise the fact they are a stupidity abyss: they try to impose their frame "I am a star" but only fools accept. We laugh in their faces!
6 / A girl with a difficult character
The kind that makes whims all the time, it sucks. The nervous that yell, the hysterical, the unstable in all kinds, TOO. A girl without tact that takes pleasure in belittling me or telling people intimate stuff that might make me uncomfortable, it would be next ! Same thing if she is full of hate.
7 / A girl with an addictive behavior
For example smokers with black teeth, those who are drunk every weekends, those who use drugs, those who have too much tattoos and piercings, who changes her hair coloc every month (blue, green, red) etc. Damn, we did work on ourselves to improve, it is not to end up with this kind of girls! We are not desperate !!! There are people who love smoking because "it is sociable girls" … but that's just an excuse, in fact, they just like to smoke with them and their personal development process stops when it would be necessary to  make a effort to stop smoking. Sorry if I offended sensitive souls, but it was to make them think.
8 / A not feminine girl
Sorry but we like girls who take care of themselves. Who perfume, smell good and everything. Who choose their outfit carefully. In short, we want to be proud to have them in our arms.
9 / A girl who speaks badly
I hate vulgarity. A girl who speaks in "riffraff" mode, I find it anti-sexy. Especially if she is aggressive and wants to play the man … I like girls who talk properly and, for that matter, who write correctly too. If they read in addition, are cultivated, and understand second degree humour : it is perfect!
10 / A girl who has bad eating habits
You already know it but many of us do not love the soft girls that make no effort (no sport) and in addition who make us eat shit that gives stomach ache when we visit them. If they don't understand we don't like bad food, because they find McDo very cool, we disappear !
11 / A dirty girl
If she lives alone but has 3 cats and 2 dogs, that her apartment is messy, dirty and smells like piss: we flee! We also run away if she feels perspiration but she is not coming back from sport, she stinks from the mouth, or her pussy smells like sanitary sewers just when we have just approached or her pubis is archi-hairy and she refuses to remedy.
12 / A close-minded girl
The kind of girl who refuses to think for herself (full of preconceived ideas), to question, to make efforts to get out of her comfort zone and to experiment things that are out of the ordinary: this kind of girl will probably not go very far in life so we do not want her on our side. We want women that pull us up!
13 / An unconscious girl
We flee if she is not aware of the risks of STDs and wants to fuck without a condom while she does not know us (one flees perhaps after fucked her), if she has already aborted while she is just 18 (one flees perhaps after fucked her), if she sucks with teeth, etc.
14 / A girl who has a weird social circle
If she has more guys than girls friends, let's beware. If she does not like any of our relatives or if her friends are social cases, all shelter!
15 / If she misbehaves in public
If she burps in front of people, farts or if she is simply rude to servers: ouch.
16 / A girl who talks too much
The kind who talks too much but that has nothing to say, who cannot stand the silence then fills with crap music if necessary, or wants us to talk about shit making us uncomfortable : it pisses us off. We are not passing an interview and we have not to prove that we are "normal".
17 / A girl who talks all the time of her ex
Or who compares us to other guys for free, is a pain in the ass. Especially if she brags or something like that.
18 / A girl who doesn't know how to kiss nor fuck
Some girls, when they kiss, they put us very uncomfortable by blowing into our mouths. When they suck us, we feel nothing. And when we have sex with, we wonder if they are sleeping. Frankly, it does not really want.
19 / A girl who gives us a headache with her shitty principles
If the girl quickly gives us a headache with her fucking stupid principles, or her strict rules of life, or anything else that pisses us off, run away !!! There are people who assume being pains in the ass, that test us to see if they can go too far, etc. That kind of girl can go doing in with other guys!
20 / A girl who, one year ago, had a dick and no tits…
And without laughing, those who are operate, implants and everything from head to foot, or has a disproportionate body. Even worse if she is proud of her huuuuuuuuuuuuge breasts and exhibits them to rhyme.
Did I forget something ? And you, what is blocking you in a girl? Feel free to leave a comment.
PS = I'm not talking for a one night stand but for something more serious…