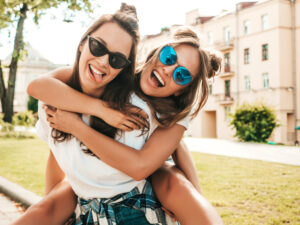 April 4th 2017,
Monday night, I returned from Tours. I am completely exhausted because the trip has been long and I have got a fucking cold for several days …
Nevertheless, I was eager to return to Lyon because I picked up a pretty blonde on Lovoo during my stay (I test different applications as part of my training Cyprine).
The online seduction, it is still super convenient to find one night stands at a distance.
I created a lambda profile on this app because my goal was to start with a contextual opener, to have a conversation not too sexualized with a chick and to bring the girl directly to my place to fuck her on the first date.
I am happy to have succeeded in this small challenge: I will obviously publish my profile and the conversation as part of my training Cyprine to help you do the same and to satisfy the demanding deity you carry between your legs.
At the last moment online, the girl asked me "where do we end up?" When it seemed to me that we had agreed that the meeting should take place at my place. Suddenly, just to force her hand, look like nothing, I said "at my place, I bought wine and more". I had not gone shopping yet, but getting her like that motivated me and I took a 4-euro bottle for her.
Anyway, she did not protest, it was a good sign… She arrived around 9pm with something to eat (olives and aperitif stuff) so we settled in my house at the dinner table. I like girls so well raised! And besides, it will make me provisions for several days.
She is osteopath, pretty and really not stupid: I spent a pleasant evening with her. I teased and played with sexual tension for a moment that seemed very long but I found it deliciously pleasant (1 hour and a half). It must be said that she gave me the answer, we were on the same wavelength and there was a good feeling so it made things easier!
After an hour, it was time to move up a gear: I approached her and asked her to get up. She followed my lead so I helped her to undress (I am very helpful)!
Once in underwear, we kissed passionately. She kisses really well, I could have frenchkiss all night long… but you know I also love sex!
After this romantic interlude, I fingered her to excite her and licked her until orgasm. It was not easy because, she said, struggled to let herself go completely with a stranger. But we got there! To thank me, she blowed me. I think a girl who was well licked would do almost anything to please us after. This good blowjob really fanned my desire for her (especially since she has a hot body).
Then, while the sexual tension was at its peak, we fucked in five or six positions (including a pretty violent doggystyle standing against my bay window) and she concluded "you're a hell of a good a lover". It made me very happy because it rewarded all my efforts. I will give you, in my formation, some advice so that the women regularly tell that to you too !!!
Finally, we made a little hug. That's when I made her talk… and I got some kind of confidences on the pillow: she told me that she always told her dates and her fucks to her best friends . She told me that girls often do that between girls, but they play prudes as soon as a guy is around. Hence the interest of fucking them well: it could give ideas to their girlfriends !!!
She left around 1 am saying she would be shattered the next day but that it was worth it. For my part, I put the rebroadcast of a stupid political showand fell asleep before (it's radical as a trick).
Here I am ! It's really for this kind of adventure that I game, because there was a good game of seduction and that sex was very nice!
May the God of the Game be with you, my friends!