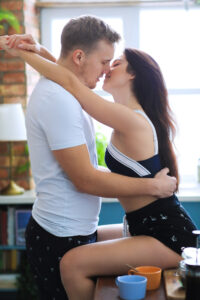 This text is a bonus to my Diary of a French PUA 3
Here is the assessment of Misty, a friend from Paris who picked up with us by correspondence thanks to the magic of the Internet.
My best moments on the field:
How to say ? I know it's not an excuse, but the fact of not being able to join you in your nocturnal wanderings "blocked me" on the physical field. To go out into the street, in a club… These are things that I have not done for long.
I do not really like clubs anymore (twice in one year this year, and the results were not convincing, I was not in the mood.) And I ended up falling back into the ease with dating sites. I did not find it interesting to spend two hours in transport to chat with girls who did not know me.
I think if I want to find the physical field, I need someone to go with. All alone, it's too hard.
My results
I am not unhappy with my results this year, although they could have been much better. I achieved my quantitative goals, it's a fact. The question now is to get the best quality.
The girls with whom I slept I liked them but they were more like the "sexfriend because I have only her" than like the girl on which everyone flahe and masturbate at night before falling asleep.
Basically, I just managed to seize the opportunities that came with girls that I now find at the limit of my threshold of acceptability. Focusing my development will not be done on a higher quantity but on an increased quality.
Regrets
My only regrets are not having been thoroughly in what I was doing this year and not being consistent in my efforts.
Has the quality or quantity of your targets increased?
Quality has not increased since last year. On the other hand, the quality of the relations that I could develop with the girls is much better.
Previously, I saw girls once or twice, this year, I could fuck almost who I wanted, when I wanted.
Even today, three of my sex friends have decided not to see me for x reason(s) after a few months of relationship: I have already found two new women who can not wait to fuck me, and two other with a naughty potential. Now the question is no longer whether I will get laid or not but who will be elected.
Which books or videos have helped you the most?
On this point, I'm going to do my corporate dude (thank you Fab ') but rereading "The (inconvenient) truth…" really helped me to get back in a period when I had trouble getting out the head of the water. After, I read a lot of books this year: The Miracle Morning, The four agreements, Unlimited power, The power of the present moment, How to become a dominant male, and so on…
My desires for the future
I would like to continue my development, but this time, surrounded by people who can accompany me physically. I imagine that those who were able to go out with Fabrice in Lyon have made good progress, in any case, that's what comes out when I see the results.
Increasing the quality of the girls with whom I sleep.
Analysis of my seduction Year
Too disjointed for my taste. Toothed efforts, too lazy sometimes, too invested at other times, which has led me to a difficult passage both physically and mentally.
Your advice that you would give to beginners to start well?
Do not put pressure on yourself, man!
Mistakes not to do?
Fuck because you want it, not because you need it.
I love you