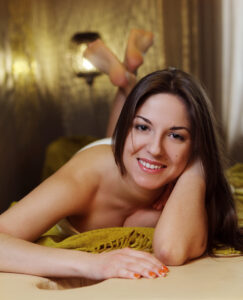 April 10th 2017,
This weekend marks a small pause in my success. It's like that, there are times when the planets are aligned and everything goes like clockwork… and other times it is a little more hard! I will still tell you the facts (not very glorious) in this diary.
Friday lunch, a 35-year-old Colombian came to my home. We had agreed on a date with the theme "massage". Until then everything was fine but I was really surprised to see her coming because she had taken with her a small backpack containing all the necessary material for a professional: massage oils, essential oils, etc.
We talked a bit (because we had not discussed much on Adopte) and I realized that I came across a girl who gives yoga classes and naturist massages to make a living. Somewhat provocatively, I told her "put yourself in uniform": without discussing, she undressed alone looking at me with an amused look. It made me fucking hard, so I massaged her.
At the end of the massage, I eaten her pussy and she orgasmed. Then, she told me "Thank you ! In my turn"… and therein comes the rub. At first, I found it very exciting (I was naked massaged by a charming naked woman) but, in fact, she pressed me on energy points, including on the dick and I lost my beautiful erection. I'm not kidding: I was really tired at the end, I did not feel at all my body. Very proud, she said to me "I cleaned you, I took away all your bad energies". I hope it worked hertrick because I even had trouble moving after (I needed two days to recover).
So, I did not fuck her but I still had a great time. We spoke about energies and philosophy of life… She told me that I was already properly initiated to spirituality but that I had to deepen and advised me to read The four agreements and The power of intention. I love mystical personalities like that… but I probably will not see her again for the simple reason that she also makes me a little afraid, this kind of shaman!
To recover, I spent Friday night and all my day of Saturday with The Teacher (my ex who is again a little bit my girlfriend actually). And yesterday, Sunday evening in the late afternoon, I had another date with a girl Adopte I did not like.
I explain: she got turned on all alone on Adopteaguy's chat so I gave her my number, just for fun. SMS, I spoke to her as a shit but it excited her and she even sent me naked pictures of her. It was a really easy shot but she was still too big for my taste and I did not like her face (sorry for her)… so I have trolled her. Except that she did not understand that I was making fun of her and I wondered how far I could push the cork.
Well, the cork, I pushed it : I made her come to my house. But she did not even excite me a little bit so I continued my asshole show in face-to-face. Besides, I found her really stupid, she reminded me of my sister-in-law. Suddenly, I told her shit: I spoke to her like a bitch until she was fed up and left. She, for her part, was laughing out loud thinking that I was a comedian. And besides, she wanted to fuck. She even lay on my bed next to me and everything… I did not know how to make her leave but fortunately, after an hour, she gave up and left. Thanks to my inaction!
This is called voluntarily DLV : it allows you to get out of delicate situations as when a girl who you don't like makes the forcing so you take her on all fours and you do not want to be mean but you do not want to penetrate her either!
What I did was not very nice, but I think it's better for her to think I'm crazy rather than saying, "No, I think you're ugly, fat and stupid so please go away !" So, I still respected her ego a little, even if I did it without she knows… Must say she is a little cunning because the photos she sent me were still a little sexy but they were probably old because, in truth and on her profile, she presented a height/weight ratio totally incompatible with these images.
In short, I have not fucked but I would say that these field reports are very informative because one shows that the sexual energy does not pass only by doggy style and the other is really funny!
Even if he has a little mistreated me this weekend, may the God of the Game be with us for the future!