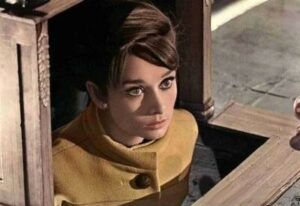 1st November 2012,
I broke my phone yesterday. I wanted to cry. Still in a bad mood, I missed my bus this morning and walked in a puddle.  I thought « Fuxelife ». But, fortunately, a little human being restored my faith in the humanity.
So, I was chatting about this and that with this chick via FB : common friends, music. I watched her pictures and I my tongue touched the ground (her body has quite simply incredible proportions). Marylou and I had agreed on a meeting two days later but, during this interval, we didn't stop chatting. The D-day, we had a date at 6:30 pm in Les Allées Provençales, I arrived late (of course) at 7 pm.
I walked her directly at Jules's because I needed feminine advices about clothes then we had a drink in a famous lounge bar of the old town. She spoke about sex, TV shows and… her ex-boyfriend (!!!) she said she hated him (hum in my opinion she just wants to see a maximum of penises as a way to punish him, it is called bulimia post-relation). She paid my drink of muscatel wine, it was cool, she scored points. Then, we went to eat a pizza close by : I paid. Whereas I made demonstrations of high value, one of her best friends passed and Marylou called her (it proved me that she was not ashamed of me and that I shall doubtless doggystyle her without too many difficulties).
We stayed cool there, till 11 pm. The contact was tremendously good even if she is an mobile-addict. She was still talking about sex, she talked about her desire to do a threesome with her driving instructor and her best friend, she complained about girls who act like if they are afraid by dicks and even said something about her first sodomy… She started to flatter me and to enumerate my physical qualities and all these flatteries intended to make a bull become hard. I saw her sending a text message to one of our common friend, saying she liked me. Then, I told her that we had to pass at my place so I aerate my apartment. She stayed in the hall while I opened the windows. She asked me if I could drop her off at her home because there were not buses anymore. It was asked so friendly that I said yes.
Arrived in front of her building, she didn't leave my car and we stayed till 1 am speaking (especially her, playing with her keys) then she told me very cool things like « I am good, I can be with men who have a cute smile when a lot of women are alone » and things more provocative like « you'll never be as cute as Damon » (her fantasy). At this moment, she put the finger on something because my father and my grandfather were so much tall and handsome that I make a complex and consider myself as a failure. I maybe try to compensate, in a way, with the learning of seduction. Well, I am too old now for this teenager's bullshit and I know that even if Damon is one of more beautiful guys of the earth, he would not have sex a lot if he had an attitude of depressive shit (and for the moment, she is with me, not him). It finally reinforced my vision of the seduction: a hot body without the good attitude it is not good, attitude without a hot body it's much better… even better in some cases that attitude AND body… because it urges to go farther to compensate (cf. Gainsbourg).
Let us return to our lost sheep: my objective at this moment was to kiss her and to have a relation with this exciting goddess, I love this kind of girls. She represented the temptation. I thus kissed her, put my hand under her T-shirt and caressed her breasts and her neck. She said « I want to sit down on you, face to you » thus I moved back the seat of my car and she opened my pants. She started giving me a handjob then « I want to suck your dick » Then she took place on the other seat and went back to her task (it needs a lot of concentration). She said she had her period (I don't know if it is true ?) so didn't wanted me to take her nor to lick her pussy. Too bad for her.
She removed spontaneously her top saying it was warm here (I agreed), I love her tits, I opened her jean to enjoy her butt, I love her amazing butt. The car was full of vapor, cops and young idiots passed just next to us. I finished in her mouth after 30 minutes, then she said she was tired but that it was a « good fatigue ». This girl is awesome. If you wanna see what she looks alike, it's obviously possible… Check « Audrey Hepburn » on Gogole and I swear she is her double (at 21 year old).
« Bon nouit », as an Erasmus whom I met recently would say … May the God of the Game be with you.