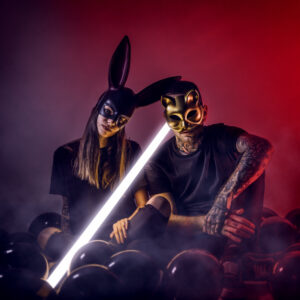 This field report is related to the field report of the 03/10/2013.
April 1st 2012,
Yesterday night, I went out on Le cours Mirabeau with the cock out of my pant and we made a big orgy in La Rotonde. I screwed 50 girls in a raw and I even made a little bit more. APRIL FOOL !
In reality, it was less glamorous. The day before yesterday, I ruminated on Doctissimo section « male fantasies » and, suddenly, I felt that I found my back Modjo in a glass of rosé. MIRACLE ! Then I called Hafid and we decided to go out.
«When I enter the club, I have the hard one, all the pussies of the whores are wet, it is easy » says a contemporary poet. It is a little bit true in my case. I turned up in one of the clubs which abounds most pre-pubescent teenagers of the city center. Fortunately, my look crossed the look of a girl of my age, who danced with a kid. She maintained my eye contact, I maintained her EC. She spoke with her friend without breaking the EC with me and this one doubtless eyed up me to estimate me in her turn. It is the typical case of the girl who wants that you approach her then that you kiss her because she asks for the validation of her buddy. I'll spare you the details, I went there, told her two or three mythical lines, she laughed about my nerve and I kissed her. We spent a long moment kissing tenderly and more wildly… Then she went back home by presenting me with a « you're so handsome you ».
Fuck, that does not happen to me every day that we tell me that so it excited me and made her shoot up in my respect. Once alone, I wondered if I was going to return to my place or staying in the club and continue to pick up. Finally, I left because I was in seventh heaven (I wanted to stay very positive).
At home, I rushed at the computer and added her on Facebook then I sent her a private message (soft) to give her the opportunity to give me her phone number. She seized the opportunity, I thus proposed her a date in the sun after class. She accepted and I kissed her again (by surprise but not that much) while she waited her bus to go back.
The next day (thus today), I suggested her coming to watch a movie at my home with me : she looked enthusiastic. We did not watch a movie, I fucked her to create links instead. This girl has the look which ignites when she is naked : very naughty eyes. I contented with admiring the situation in which I found myself while I took her doggy-style thanks to the mirror which I installed in my room. I even played the bird when she did not look at me. It feels good to take up with the success. When she left me, I stuck an enormous fish in her back (paper eh, not a frozen food).
Well, because I have some time and because it is the subject which interests everybody (The men will recognize themselves there and the women try to understand us better) I am going to develop those « male fantasies » I was talking about earlier.
1) Making love with two women : Two girls to my service to satisfy the slightest of my desires… What else ? It is the typical fantasy of the alpha male dominating at the head of his harem. Not to mention what could take place under my eyes during the party: « a woman with a women ». It's OK, I'm hard.
2) Having sex in public: My excitement soars in arrow when I realize that I could be surprised. Making love outdoors, in a park, an alley, or in a public place: It is a desire to break the routine, to take risks, to make rise the adrenalin. In brief, to feel alive.
3) Fucking a girl with a buddy: If possible, the girl of the buddy or an unknown one. The one is set in mouth while the other one does things without delicacy then we exchange. I believe that it is necessary whether it is a good buddy with whom there is not competition anymore for a long time or then a guy whom we hardly know and whom we absolutely don't care about. The girl is filled, it is the happiness for everybody. In the same vein, I am also stimulated by the scenarios of squared party (two couples mixing) or downright of carnal orgies. The more, the merrier ! PS : I have nothing against the double penetration.
4) The pupil, the nurse, the stewardess : The fantasy of the girl in flower, the woman as a sex object, the uniform… And taking advantage of it, in the middle of the role play, to administer a small correction (if she likes it) to my partner. There's nothing like a spanking or there's nothing like a stalk of authority to put her in appetite !
5) The Sadomasochism : Suffering and making suffer with delicacy and refinement. Attach, give orders, humble, or on the contrary, submit and answer all the feminine desires. Softer : pepper my romps of some salacious words.
6) She swallows: Seeing that no drop of my sperm is wasted gives me the sensation of the accomplished duty. A woman who swallows, it is a greedy woman or a subdued woman. In both cases, difficult not to fantasize!
7) The deep throat: Watching my yard disappearing completely in the mouth of my partner, it is very cool.
8) The mature woman: She is popular thanks to her experience and to her know-how. Easy to court, often naughty and in search of strong sensations and of fresh flesh. Most: if she is married childless.
9) Naughty photos and hot movies: The scantily dressed naughty poses, the positions glamours at the heart of the action : long life to naughty text messages, the sex by telephone and the live shots. I adore the girls who leave aside their shyness to have fun (The striptease is very also a true turn-on, but little dare unfortunately). Other connected fantasy: making a porn or an amateur movie.
10) Realizing her fantasies (that pleases me to please her) :
– There are the erotic scenes inNine ½ Weeks which inspire me, in particular when Mickey Rourke uses an ice cube to make Kim Basinger shiver of all her body. Let's take out the ingredients of the refrigerator: ice cubes, yoghurt, jam, but also, champagne, strawberries, everything is good to cover the body and get drunk together.
– A lightning visit and a quicky without preliminary.
– The elevator is a place certainly dumped but in high erotic potential, especially in the workplace. There are even some that the possibility of being watched excites. Other choices there : Cinema, public transportation, parks, toilet of restaurants, changing rooms, the train, the municipal swimming pool…
– In a car, making love on the back seat, or astride. Even more surprising : Let's run up to the seaside and let's park opposite, to increase our pleasure in this sublime place.
– The fantasy of forced love is real at many woman's, as demonstrated it the movie of Almodovar with Victoria Abril held byAntonio Banderas. Attached, bandaged eyes, etc. : All what you have to do is ask.
– Making love with several men in a row. More we are, more she enjoys? Going up to the bukkake?
– Offering to another woman: the lesbian fantasy is spread enough (the prohibition, the search for the sexual osmosis).
– Team up with an older guy: generally, for the experience and the lifestyle.
– The guys in uniform (or the ripped men with a big dick) become sexual objects in the eyes of some. I disguise as what? Fireman, serviceman…?
– Certain girls fantasize over the swapping, apparently. Cool.
– Making love with an unknown: consuming a wild and short-lived meeting. I am a little bit a specialist !
– If you too like very much being called « master » down from your heels do not forget that I can sodomize you as well.
– Give way in the middle of nowhere or under a hot rain. I have the half-hard one only to write it.
– Fucking a star to boast with her friends or simply realizing her fantasies of groupie.
– Having sex with Cyprineman (I understand you), get in line.
Han han ! May the God of the Game be with you !