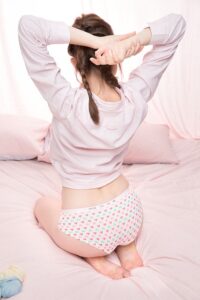 July 11th 2015,
What happened with girls lately?
To lift my spirits (and "to kill time" as would say people who do not assume) while I was still spending 1h per day in public transport, I reinstalled Tinder. This idea resulted in 4 adventures.
1 / The first week, I had a date with a nurse. Cute but a little bit chubby… here, they do not know olive oil, they put some fucking cream everywhere, so it's not a surprise… It is the city of Gastronomy foremost while, I am from the city of Kalashnikov (we don't share the same values)!
Parenthesis opened. Besides, I also began to get fat, I have already put on 2kg weight since I live here. Parenthesis closed.
Before the date, by texts, the nurse told me she wanted to fuck me, but unfortunately, she was menstruating (the oldest excuse in the world so it's hard to know if it's true). So, we met up in a bar instead she sucks me directly at her place.
I thought it would be a long-term investment and that I would fuck her the following week… but big mistake! We had a good time, she had a good laugh, I sexualized. But at the moment of saying "goodbye", I tried to kiss her neck, several times… and she drew back all the time. I finally did it, but hey, it was weird. Hot with words, distant with acts. She eventually confessed she had a boyfriend and that, ultimately, she did not want to cheat on him, blah.
So, I told her to contact me when they would have broken up (because, yeah, with such a mentality, they may not stay together long). I have attached a photo of me, shirtless. It was a bit pretentious but I don't care. I do not like when one makes me waste my time that way, I find it disrespectful, so I'm disrecpectful in return.
Especially that « time », that's what I'm missing the most right now, after « sex ». The thing that got me pissed off it's that after this disappointment, I returned to my cousins at 10pm : I had to cook something and everything, I went to bed late… and, « sleep » is the third thing I'm missing the most now. Well, it's not a totally negative experience because I still had a good time and found a nice bar on the banks of the Rhone. There's lots of people out there,  enjoying aperitifs on the lawn next to the barges. It has a romantically sexual side that I like!
2 and 3 / In the meantime, I talked to two other chicks on Tinder and received some pictures of their breasts and legs on Snapchat. I have not yet seen their buttocks but it is expected soon. One is on holiday in Avignon. The other is spending a few days with her parents in Normandy. This is the wide gap between the two! I hope their are supple in bed too !
So, I will see to take care of their case next fall, if they do not get cold feet meantime. Because yeah, chicks "strangely" let themselves go more, when real sex is impossible because of distance. It shows that they like it in fact. When it's time to make it for good, on the other hand, many start being stressed, imagining crappy scenarios and prefer staying at home watching TV than having orgasms. Of course, they invente shitty excuses to try to justify such a stupid behavior. The trap here is to believe we have done something wrong. Sometimes yes. But sometimes no, when you have a clean game, you just realize that many girls "do not have what it takes." They must realize it's really hard and frustrating to do it to a guy, way more than if he had no hope.
4 / Last week (I had no time to write before sorry), I visited a chick who is a seller for H & M. We discussed on Tinder for a while. Then a blessed day, she gave me her number point blank. I replied teasingly "we talk with numbers now?
– This is my number, it will be more practical."
Then daily by texts, I asked her what color were her underwear. She apparently said the truth and it was funny because she was often unpaired. Sometimes she even told me she was sleeping naked… it turned me on. I am just a poor hetero! I sent her a picture of me shirtless to kill time and she said "yummy". Oh my God ! My cyprine detector panicked!
Here are some legendary sexts exchanged:
– "It is now hard at work and I'm not talking about my dick"
– "I would have enjoyed making love to you this morning before work"
– "I'm hard, you're all wet?"
– "I have a pretty incredible erection at the moment, it's a shame to spoil it by doing the accounting"
– "If you laugh at my joke you're half in my bed
-haha haha then I laugh twice so I'm completely in. "
One day, during one of our regular philosophical discussions, she told me she gets tested every 6 months because she really loves sucking and swallowing. I replied that I understood because I loved licking. She invited me at her place the following weekend. So it was not a little pussy with guys just chatting to kill time and ready flake (canceling at the last moment with a shitty excuse) because scared to have a too powerful orgasm! It was apparently a real tigress, did I say to myself! Just for that, she deserved a great Cyprineman!
The evening of the date, I sent "I will be in 14 minutes at the address you gave me
– very precise
-… Yeah, you'll see what precise things I can do with my fingers too". Actually I arrived 45 minutes later. The course looked smalleer on the plane, but it was a good thing I was late because her gay roommate just left working in a haunted hotel (he is a receptionist there). It turned out that he sometimes tells her stuff he sees at night and it scares her. Good, I just had to comfort her behind. gays are our allies!
I climbed the stairs, I was out of breath just like after a quicky in an elevator. A beautiful blonde, long hair with green eyes opened to me. Seriously, really not bad, the chick! She was just wearing a t-shirt and her panties.
She wanted to kiss me at the outset on the landing but I defered the moment to bring up sexual tension. So I gave her a kiss on the neck. Then we went to her room, holding hands. There was a rat. Seriously! One more crazy girl (it's the second madwoman I meet in Lyon). But hey, I was too hungry for sex then I ignored it. And it was not really a problem, for what I wanted to do…
We kissed for a while, then I started fingering her… she was too warm, so she removed her top. I understand her, you should know that this is the dog days here: it is almost 40°C warms at the moment and I'm not exaggerating… in addition to the pollution, it is suffocating, it is not easy… the south for heat that's better, there's at least some little fresh air!
Anyway, it was my turn to remove my polo then I took off her naughty shorty. I licked for a while (I was thirsty because of this calor) until she came. She commented "when I have an orgasm it knocks me out". She then gave me a good blowjob, it was very good, and has lied down, turned her back and fell asleep. I took a picture of her ass and I left. I'm not such a bitch like that usually but in this case I found it was disrespectful to treat me like this, I'm not a dildo !!!
For confess, I would gladly have fucked her after. Anyway, as I prefer oral sex to intercourse, it was ok… I wasn't too disappointed! I just really needed to unload!
It's incredible how I have no time between subway, work, fatigue, the swimming I continue with great difficulty, etc. It became urgent for me to organize myself otherwise, to find a flat. Otherwise, there would have been one less womanizer on this planet (cause of death: implosion of sperm)! I got home early after this adventure, so I could sleep to catch up on my sleep. I slept the sleep of the just.
Yesterday, I sent her a text message asking if she had the result of her tests, but she did not answer. What a bitch! I have a right to know if she is seropositive, right?
5 / And in the near future? There, I still have to take care of a lot of stuff like bank, social security and many other formalities! I will also continue to pick up on the Internet because it works well here. Anyway, it is statistical: Lyon is much bigger than my old village so there's a lot more targets. Seriously, the population is about 10 times denser than Aix-en-Provence. In addition, it's a different mindset here, I'm not saying that there is no pain in the ass, but well. It's something else… and since my old life made me reach saturation, it makes me feel good, this change of scenery.
Well, I don't know many people in Lyon even though I already made out with 5 or 6 chicks who live there (before I moved there) and I have a good friend. I will also try to meet guys who are in the game but I will try to avoid the suckers and immature boys (like I said, I do not have much time for childishness and ego battles). I'll select guys who will not be too likely to piss me off with their false problems of virgins conditioned to look for a love story with the first bitch a little interested in them they find (no I'm not jaded, it is just that I have seen many times this so pathetic scheme). I will see if there's a LAIR (gathering of people who are in the seduction community) around.
Next week, I'll host for a fortnight Virginie, my open relationship. In fact, her parents moved to Grenoble but they have not found accommodation yet. She thus does not really know where to sleep during the end of July then, as I am too nice a lovely guy, I'll help her.
In August, I have 3 weeks of vacation (the firm where I work is closed): I'll try to go back in the south at least fifteen days to see my cat, my dog and the sea that I miss greatly.
For me, the serious game in Lyon will start in September! Meanwhile, I'll just do it as a dilettante…
May the game of the god be with us!