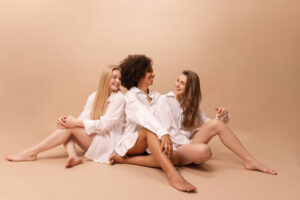 May 11th 2017,
Yesterday evening, around 7pm, I had invited a girl at La Prof saying it was to get to know each other with a glass of wine… in view of a threesome scheduled for Friday night. What a naive, she had to believe that I am the kind of person who organizes dates like a virgin, without sex!
Where it is awesome it's that I also invited a second chick, but this time by warning her that we would probably be 4 and that it would be for an orgy (I felt her a lot more open-minded on the chatting). It's important to note that we did not know these girls, we just hooked them up on Tinder.
I admit, I was a little manipulative in this field report (but I think that the hunger for pussies justifies the means): I had not warned the first that we would be four, to prevent her from being afraid. I told myself that my orgiastic plan would be more likely to succeed if I put her before the fait accompli, so that she does not have time to apprehend. As for the other, too bad for her if she gets cold feet… we would be at least three to have fun!
We took advantage that the second chick was late to warm the first so she does not want to stop at seeing a fourth person coming by surprise. La Prof is still a great accomplice because even if she was scared (I too was a little nervous), she perfectly followed the plan ! Congratulations to her !!!
Suddenly, when the latecomer arrived and she advanced to me to make me a kiss, I already had my cock in the throat of a girl… who herself had the breasts naked. We quickly put the last arrival in the atmosphere, which was not very difficult as the atmosphere was warm and sweet. The sexual tension was then more than palpable!
We did a lot of oral sex in the living room before going to the room. On the bed, the positions became more and more sophisticated. We did particularly ingenious montages like with a girl who was getting licked by another, I licked myself her while the last one took care of me while being fingered by the first. Sometimes I was licking a girl while getting sucked by a girl being licked by a third, herself having her pussy eaten by the one I licked. The sexual energy circulated very well. Moreover, at one point, one of the guests ejaculated in my face (feminine ejaculation). I am not kidding, I licked cushy when I received a hot jet directly in the eye. It was weird! What a fountain !!!
Finally, the girls were all bisexual, they wanted a cock shot. So, I was helpful and took them one by one. I was in a sort of trance, without lying, I was probably helped by the God of the Game: I had my erection for more than two hours. I must say that I did not have the right to make the mistake: I did not want to be on the sidelines when it was perhaps the night of my life, fantasmatically speaking.
I was all the more excited that often the one I took tried to take care of another girl while the last came behind me to encourage me or was going to frenchkiss the one who was licked. It was really a beautiful show.
In short, I'm pretty proud because all the girls have orgasmed, and even several times. As I said, creating a harem was really a fantasy I had for a long time. Moreover, in the training Cyprine, I will give you all the explanations you need to organize this type of parties (and your dick will say "thank you").
After the fuck, we spoke a little, all four together. I learned that the two girls were in a couple: one with a guy who had difficulties to get hard, the other with a guy who lives far away, in Alsace (it describes well the mentality of the girls when they are not fucked regularly…) Being in the minority, I've seen what girls' discussions look like when they are together and I can tell you that they talk about their sex in a very trashy way… they also like teaching each other about their own bodies, how to have more fun and do not hesitate to exchange their experiences as well as their naughty ideas.
Finally, it was already midnight when the guests left. La Prof opened the window to dispel the smells of sex and I heard the other two exchanging their cellphone numbers out there. It's cool for them! Me, I slept with LaProf telling me that this girl is still fucking great to allow me to live adventures like that. This morning, the alarm clock was hard with us but it was worth it…
Please, God of the Game, stay a little longer with me!