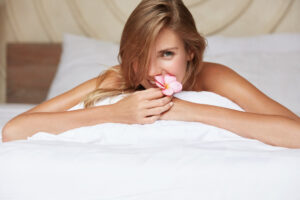 May 15th 2017,
Last night, I received a visit from an Adopte girl, whom I had warmed with speed-seduction lines. On the site and by texts, the girl really wanted me to reassure her "you're not going to hurt me, right?"; "I'm a little afraid to come directly to your house… but I want to!"
So, I told her that it was normal to be a little stressed and that I was a little, too, at the idea of ​​meeting up… but that I found the concept very exciting. Once at home, I realized that I was not dealing with a little shy girl but a shameless kinky woman. In fact, she was testing me with those crap messages but she's a crazy about sex. She had dressed in a tight black dress and it fit her very well because she is thin and firm. So, I got hard directly when I saw her.
While I was really cramped in my boxer, we drank a glass of white wine on my bed… then, she stuck to me so I slipped my hand under her dress. I then started stroking her string until she became wet. She asked me, as the ultimate shit-test, how much girl I had slept with . I confess, I lied, I decreased the number not to scare her and I replied "I do not know… maybe sixty." It worked perfectly : she asked me to undress her. I did it and congratulated her for the choosing of her lingerie. It's when I kissed her nipples that she became really wild: she jumped on me, put me naked and sucked me.
After a while, I felt a bit selfish so I tipped her on the back and licked her. I felt her climb very high but she really resisted and begged me to take her with my cock when I felt she was coming through my tongue. Since the best is the enemy of good, I started with a quiet missionary, then doggie and spoon.
After half an hour of penetration, I felt that I was going to enjoy: suddenly, I left her, the time my excitement down and went back to lick. There, I forced her to come. I brought her with the tongue close to orgasm holding her legs wide apart so that she does not tighten them because of her fear of letting go… then, when I felt her on the edge of ecstasy, I added two fingers on her G-spot.
She revealed to me that it was only the second time in all her life that she had such an orgasm… and that it had obviously never happened to her with a stranger! Only once, with an ex. She told me she was going to talk about me to all her friends to make them jealous !!!
I felt very flattered… suddenly, I took her doggy style quite violently and asked her if I could finish in her mouth. She said "for a good leg like you, I'll do anything you want." Damn, it made me hard even stronger!
When she left, she told me that I was her 25th guy and that she was rating them all out of 10. She showed me her list of "conquests": I was surprised! I was warned but, at least, this is the ultimate proof that girls are like guys (or even worse).
May the God of the Game let us quietly meditate on it!