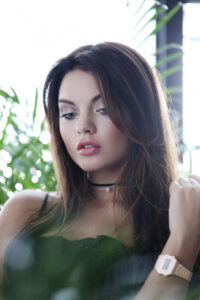 May 21th 2017,
Hi guys ! What to say, except that last night was a big night? I make it short: when I was at my grandmother's in Tours, I had matched with a thirty-year-old girl on Tinder. The girl directly told me that she knew my blog and that she liked my stories but that she was not available for us to meet up because was taken aback, had her period and had to keep her son (strike out the useless mention) Me, I just wanted to take her because she's really my type (I like the light-eyed brunettes)… but I thought that she would still be a little player, so I did not believe too much and I let it flow (I just sent a message from time to time because it does not cost anything).
In fact, I was pleasantly surprised: the girl really knew what she wanted (ie, my cock). She organized a weekend in Lyon, so 400 kilometers from her home, with 2 girlfriends and 1 gay friend attached to libertine clubs. They rented an Airbnb so she invited me for an aperitif.
Small analysis: it's my sexy identity that motivated her to come (she is a fervent reader of my blog). I have a reputation as a guy who has a life filled with pretty women and who fucks them well, which is attractive for a girl a little shameless.
I joined them at 9 pm in the apartment they had rented on the banks of the Saone for an apéritif : I drank two glasses of white wine that put me in the mood. At first, my target sat quite far from me so I socialized with her girlfriends and I told myself that it would be tense if it continued like that. But my bladder had been filled in the meantime so I went to pee. And there… O joy! When I came back, I noticed that the beautiful woman had switched places with her girlfriend to sit next to me. So I discreetly caressed her back, neck and thighs while having a normal conversation with her friends. At one point, she even stroked my hand back: compliance test validated.
We went out around midnight to go on a houseboat (I wanted to enjoy being with girls to get in). We drank a beer together and I still stroked my target under the table while her drunk friends did not see anything. At that time, I had not kissed her or anything yet but I already knew we were going to sleep together. Especially that at one point, her girlfriend wanted to quietly tell her something discreetly but I heard… it was "you do not think he looks like Allan Theo?" I did not know this singer but, apparently, they find him charming, so being compared to him gave me the implicit validation of her girlfriend.
That same girlfriend was supposed to have a Tinder meeting with a guy she'd picked up in the afternoon on Tinder to fuck (she was in "hunt" mode) but the dude got cold feet because he had to "revise his examinations ". Seriously ! Still, she was not bad too. Anyway, I remained focused on my milf who was really hot: brown light green eyes, 1m65, thin with shapes, etc.
We then went to a large bar/club famous Place des Terreaux. There, the goal was that her girlfriend finds a guy so we can go fuck on our side without leaving her alone (because the gay friend and the other girlfriend of my target had gone to get screwed in a libertine club ).
Except that the girlfriend was a big mouth but was unable to approach a guy. So she was trying to establish eye contact but, frankly, there were too many people and when a guy came to see her, she suddenly found him a crippling flaw. Requirement or fear of taking action?
I say that it is useless to note the girls because all tastes are in nature and the most important is that a fuck makes you happy not that your neighbor finds your the chick you're having sex with sexy. In short, all that to say that the girlfriend should practice the Game instead of flirting with the tear: it would teach her a lot about herself and others.
On our side, we began to kiss, which made me hard. So, I took the hand of my target and put it on my hard cock (over my jeans). I think she liked to taste the goods! To not look too needy, I kinda let the girls talk together. It's while strolling that I crossed the babacool blonde I fucked a fortnight ago. (In fact, she recognized me because she had tied her hair and I could not see anything without my glasses.) She came and shyly came saying hello and everything it was nice…
The mere fact of seeing her again gave me a good mojo (she is hot) and… a little later, I fell back on the Lyonnaise girl we had fucked in a foursome with Padawan 4 (see the field report "I had Lyon for breakfast"). She told me that she was fucked hard like never during this weekend in Aix and that it was a great memory for her. I asked her if she would like it to be fucke by me again, a little by provocation and, as an answer… she kissed me. Several times.
I know it's not very logical but I ran away. I did not want my target of the night to see me kissing another girl (especially since I had already fucked this other girl). It would not be respectful, damn! So I joined the two hunters on the dancefloor (without dancing because James Bond does not dance) and I began to Frenchkiss the beautiful woman while the other girl throwing looks to the right and left. Finally, she gave up and took an Uber to go home.
We did the same thing on our side and we fucked from 5am to 6:30. It was a feat considering my state of fatigue. I licked her well and she orgasmed two or three times, so she wanted to suck me to thank me. Then we tried to fuck but it did not penetrate. I'm not kidding ! We were not super compatible apparently and we almost gave up… but, finally, by putting a cushion under her buttocks as a missionary, I could fuck. What a relief !
Then her vagina was more open and I took her doggy style. Like what, with a little inventiveness, we can do anything !!! But, I must admit that I was not at the top of my game because of the alcohol and the late hour. After shots, we fell asleep and this morning, I have the head in the ass. I have drunk coffee but it's even worse now: it looks like my brain is a drum. But I'm happy because I have beautiful pictures of the pick up in the night (I filmed in the bar until the moment when we get in the taxi to go home – I will of course floute  all faces) for my training Cyprine .
May the God of the Game be with us!