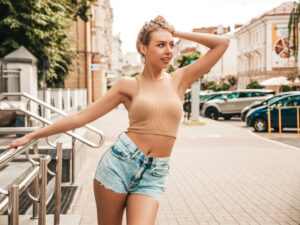 June 14th 2017,
First of all, I apologize for not having written in a long time. What an infamy! But you have to know that I broke the preputial skin during my sex marathon last month. Basically, I had bleeding on the skin that is close to the glans… as if it was sliced! Argh !!!
Fortunately for me, more fear than harm but I was asked by my doctor to disinfect and let it rest. I also took the opportunity to get prescribed blood tests and make a screening for STD… verdict: I have nothing at all! I also made the move of La Prof who moved into a great neighborhood and, as it was Friday/Saturday/Sunday, I did not go out practicing pick-up.
Then you need to know that I'm doing all the montages for the training Cyprine (it takes a long time) so I do not have enough time to fuck chicks.
However, I would like to make a video with a girl of color. (Well, I do not have only have pick-up with "white" girls since I had fucked an Arabian in May but it's a fact: the little white people like me do not usually have too much succes with the Arabs or the blacks… it must be a story of homogamy because I have only fucked a dozen in my life. As for the Chinese, they are generaly quite shy and frightened by an enterprising guy… but too bad for them).
I also wanted to film the approach of an instant fuckclose in street pick up. So I moved my ass Thursday, Friday and Monday. I had sessions in the cool hours during this heat wave, from 17h to 21 h approximately. I initially had only taken number so nothing very crisp, but…
Monday around 7:30-8:pm, I approached a little blonde girl not far from her apartment (I did not know where she was staying) and we talked a little while (even if my approach was not crazy). At first, this girl who works in insurance was rather closed and suspicious but she quickly opened before closing when I began to try a kino on her hand. I still tried to take her number but she was not ready and asked me what I was looking for (shit-test). The thing is, I really wanted to pee, so fuck it, I asked her if I could go home because I told her that I lived far away and that I was going to take a long time to get home. She replied "OK but just 5 minutes then".
Then she drank a Coke in her living room and I pretended to like it, out of politeness… but at least I could chat with her. This is where I learned she had not fucked for 4 months, she loves sex and she is very bedridden. Needlessly, I began to caress her back and it tickled her but she did not ask me to stop. Just at one point, she said, "You should maybe leave?" But I kicked in touch and continued to argue (it was an objection and not a rejection). In the meantime, I made her talk about sex and her fantasies, which must have motivated her. After about an hour, she finally offered to show me her room. There, I kissed her in the neck and everything. What ignited her.
She told me that she was in an open relationship with a guy and that guy loved to see her get caught by other guys… so she asked me if I could shoot her with her phone to warm her boyfriend.
Then she informed me that she was hot so I allowed her to undress and told her that I wanted to take some naughty pictures. She put herself in underwear and told me that she had secretly sent a message to her man to ask permission to sleep with another (in fact, the guy lives far from Lyon and they do not do not see each other often).
After that, I told her she was making me hard so she touched my cock to see. This is where I fingered her and then licked her. She took a long time to enjoy but said it was normal, that even when she touched herself, it took her a long time. Then she told me she wanted to suck me to thank me. After, she wanted me to take her doggy and missionary. Personally, I was just afraid that my preputial skin will not tolerate but in fact I did not even feel pain so I'm apparently cured (it just got a little fired)…
On the pillow and sweating because of the heat, we talked about her ex, including one who was premature ejaculator but did not bother to make her come with his tongue or fingers. He apparently thought that a cunnilingus was making a girl orgasm in three licks… We also spoke about her "relationship" with a current guy who lives far away, who has not fucked since February because he is more voyeur than anything else, if I understood correctly.
She was glad we fucked so we exchanged our Snapchats to send each other dirty pictures on occasion. She would like me to see her with her boyfriend to get caught by two cocks. I do not know, we'll see.
So, there, I really have everything I need to create a training that will be awesome. Now I'm going to continue editing my approaches and working on the explanatory videos… but if there's a way to still place a fuckclose with a (really) colored girl before the final publication of my project, I'd be delighted.
May the God of the Game be with you!