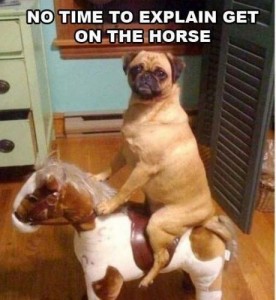 May 8th 2015,
This week I'm in Tours with my grandmother. I must explain: I had a job interview in Paris and before going back I decided to visit her. It's not very far.
So I told myself I was going to test Tinder in a new environment. It is no big deal.
On Monday I matched with a 32 years brunette who was with a horse and a hat on her photos. IRL she is a nurse but not naked under her blouse … (it was she who told me that but in underwear that's fine too).
Opener "You also want to ride me and blow my obstacles?"
"It will be complicated: I do not make obstacle but on the other hand I train with spurs and whip.".
"Lol. It is me who will train you, yeah!"
"You're talking to a girl who trains horses over 500kg! I'm not sure that you have what it takes! Lol"
"Lol! You won't be so cocky without your clothes !!"
A girl full of humor, then. Then she told me she thought I was "presumptuous" I replied that I was "ambitious" and "I like to give orgasms with my tongue." She said that I had at least one quality. I had passed this fucking test…
She said that I was "a crazy dude" but "fun." I replied "the best oral sex of your life within reach of click." This is my new motto! Afterwards, she said she was not a big fan of oral sex, I answered that it is because most guys are bad and that I would show her how one licks pussies in the South.
So, she wanted to test me again, saying that the girls always said "it was great" just to please us and protect our ego and everything. I replied that I knew how to differentiate one who simulates and one who really enjoys her race.
I tried to get invited in her house but she repelled the assault "I will not invite a stranger directly at home!"
"I will not hurt you I promise! I'll just make you feel good!"
"It was easy"
"Yes but it is nonetheless true!"
To punish her, I told her that I was not from Tours and that I stayed only four days. Just to put a little pressure on her! And I'm not talking about beer!
"You're not even from Tours ! Ah bravo!"
"But I still can give you orgasms"
"And do you often give orgasms to chicks you don't know?" I told her yes and that there's nothing wrong with all of that.
I asked her if she always wore hats. She said "I do not wear it all the time"
"Clothes neither"
"Not at all the, but in your presence I think I'll wear some!"
"That's it, I want to kiss you. With tongue."
"At least the first 5 minutes. Lol. Not with the tongue it's gross"
"Ok for 5 minutes with underwear, then we let nature take its course."
"You look charming in photographs but in real life we ​​are often disappointed !!"
"Often but fortunately not always "
After : she wanted to know everything about me, my passions, what I do in life, if I workout or not, etc. Because to get naked in front of me she needs to know a little bit me, it seems. "It is me who will put you naked to be exact." Ok. "I write some funny stories, I go swimming three times a week and do enjoy giving orgasms to the girls I like, it boosts me."
After she said "good night" and that I may be in her dreams. "And for a daydream tomorrow night?"
"We'll see this! I like the unexpected!"
"I'm the unexpected."
Message recovery the next day (Tuesday) "Today I still want to take off your bra."
"It will be complicated, I have no bra."
"Your panties instead"
Damn, I was so turned on! Too bad, that night, she had to go to a party with her friends. But I was entitled to another test for the road "why me, didn't you find anyone else?"
"Haha funny this test. Because it is paradoxically easy to procrastinate rather than enjoy. Gone as you are, you're going to wait Friday by postponing it would be stupid."
Yesterday (Wednesday) SHE wrote the first message (it had perhaps made her think a little what I had sent her the day before) "So what are we doing tonight?"
"I give you an orgasm?"
"I cannot guarantee but we can go for a drink!"
"After if you like me, you invite me to your house?"
"Frankly we could go to your grandmother!
"Lol me I do not mind, it's you and her.;)"
"It will depend on your tact. 9pm?"
"No I have not eaten yet. Is there a bar next to your place?"
There was nothing close and then it was getting late so I said "it seems very complicated all those round trips"
"You want to come over directly right?
"Yes"
"Lol !! I hope you're a normal person! Otherwise it's okay I have my whip."
"Ok I bring cards if you want to play a strip – card game"
"Not bad! I am quite playful! Just a quick question, how tall are you?"
"Me too I am player! I'm 1m10 or 2m50 you'll see! You should not put yourself under stress like that!"
So I came after making pancakes to my grandmother and for myself a good infusion of lime to relax. She was about 1m70, that's why she asked my size: she did not want a short 1m60 guy without confidence inside her uterus. Pretty, not at all like her photos but nice … it's just another type.
She opened a bottle of rosé to disinhibit because it was "the first time" she was doing that. Yeah yeah! If that's true it's really sad for her. We played cards after 5 minutes of fluid conversation. I was the first naked. I let her win of course!;) She was quick to join me in my nudity anyway.
After the clothes, the one that lost could give a guarantee to another. At first she asked for a kiss on the neck … and then on the lips. Then a back massage during which I have pawed her breasts. Must say (in my defense) that she has nice tits very well proportioned. After, when I had won my turn, I took her hand and put it on my cock so she masturbates me. She said "I'm better with my mouth." Okay. Persuasive. She asked me to sit on the couch, went on her knees and sucked me. She is a great swallower, I do not know why but it does not surprise me. I then licked her and she came as I had promised. I am a man of his word. I gave her some time to recover a little, she commented "OK yeah I have to admit it was really not bad." Then she jumped on me by saying her ex got limp in that position but it's her favourite. Then: missionary and lying down doggy (she had 7 cats).
After that we just discussed again, I took the opportunity to ask her first name. She told me that I was lucky to fall on a thirty nurse. Two factors affecting the openness, she said. She told me she had not fucked for months because she had an abortion, and said "thank you" because I woke her up sexually. I told her my anxiety attacks and the fact that I had been beaten in the heart by making love to her. I was scared but I knew it was probably just adrenaline or another damn hormone.
She wanted me to sleep with her, but I returned into the city center, so this morning my grandmother does not make me a scandal! Btw, it didn't work.
Affectionate little message before going to bed: "I've trained you well with my whip I use for sex !!!;)"
"Wanker! You're a small player I'm still dancing! And it happens often to me! Except that I'm half naked right now! Lol"
May the God of the Game give me a job in Tours and I fuck them all without exception (indeed, in four days I spoke with several girls … at least 3 I could fuck but I had to make a choice – or how the applicant takes the sexual power)!
All my advice to pick up on the Internet still available here.
Bye for now!