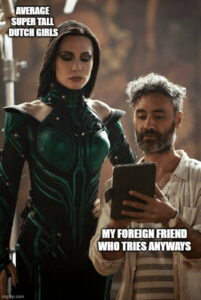 November 3rd 2016,
Friday night, The Teacher received a message on a girl Tinder from she had picked up "well you will hate me… I'm going to rest tonight! I went out yesterday and ended up in a bad state and the day was long.
She had organized a threesome with a girl Tinder to make me a surprise but did not know how to manage the "almost flake" of this girl… so she told me about it.
So I took the phone and I trained the girl "you find that an experience like us, it's not worth it to move your ass?
– To tell you, I do not even know how I came back
– You had a hangover, really well
– Oh no, I did not say that! I'm not saying you're not worth it
– We organized ourselves so you take a nap and you come
– Ahahah ok ok
– In which world do we cancel 1 hour before?
– Its true, you are right
– Yeah. Well we let you sleep and the date is at 9:45pm"
The girls are often tempted to get cold feet before enjoying because making a threesome stresses a little. But we must hold on, take them out of their comfort zone and not to procrastinate.
One of them went so far as to invent that "her girlfriend" (whose existence we discovered at the same time) had discovered her Tinder account and that she could not come. Awesome ! Iif I discovered that my girl has a personal Tinder account, I'd leave her and get fucked by who she wants! Finally, a tall brunette (1m84) has arrived home.
A girl who practiced rowing. Her favorite phrase: "the rowers are hot". She is very fun and is from Aix-en-Provence, too. We did a strip card game and my girlfriend won. Our pledge was to masturbate in front of her. Then we did oral sex, the tall girl sucks very well too. And finally, I fucked them both.
This is not my first really tall girl. I believe that these girls do not get a headache with size criteria unlike the girls who are just "a little" tall. I do not voluntarily speak about small ones that have a complex. Many tall girls just look at the guy as a whole.
This one put me more than a head and yet I made her orgasm several times. So, she got down on her knees and sucked me and I spanked her doggy style.
After that, we had a great weekend. Even if it does not work between us in the future, it's still taken on life. I try not to project myself too much and to live the present moment, otherwise I ask myself too many questions and it drives me crazy.
Monday afternoon, I was insulted by the girl who was invited during the last threesome. That made me laugh. She wanted to mess with our common friend because he was doing a one itis and I told him she was not that great. I told him that the fuck with her was not great and that she was a little too plump for my taste… this asshole told her everything.
So she invented that :
1) we had not slept together ;
2) I have a small cock ;
3) she had not enjoyed with me but simulated.
Her arguments contradicted each other, but it does not matter. These are the usual attacks of a chick who does not like that one tells her fuck. It made laugh my girlfriend who often sees my cock. I did not laugh, it's never pleasant.
Otherwise, Monday night, I went out. I had an appointment at 11am in front of the Opera with beginners of the LAIR. The big AFC talked to girls on the way coming then spent the evening with, without telling me.
The worst part of all this is that they have not even fucked or kissed them. The rules of the wingman were not respected and it fell back on their nose. We must always test quickly whether there is something possible or not instead of making interactions last for fun. In any case, I will never plan to go out again with unreliable guys like that.
Well, otherwise, I went back to work after : can't wait next weekend! I took advantage of the long weekend to fill my registration file for the course of chartered accountant. In January 2020, hopefully, I'll be done. Another important point: I lost 1kg again! I'm on the right track but we must not give up! Finally, I was sick again in October (an angina this time), so I'm angry because for 2 days of absence, I lost about €300  salary… again.
May the God of the Game be with you!