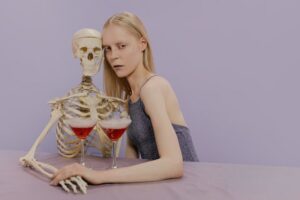 February 13th 2016,
Hi my darlings,
I have two things to tell you today.
1/ My date of Wednesday evening: I think I can award it the palm of the most horrible of my life… but I managed to make it a cool thing, finally!
At the beginning of the week, I had picked up a girl on Adopteunmec. I had taken her number after a few messages then I had sent texts. Nothing crazy, we talked about TV shows and bullshit like that.
And then she suddenly began to stop answering, for no apparent reason during 24 hours. So I sent a topless picture to motivate her. She responded by insulting me, saying that a guy who sends sexy pictures like that after a few messages only does not excite her at all. Well, she'll say what she wants but if I had not sent this naughty text, she probably would not have answered.
So, I managed to convince her to come straight to my place and… first weird thing, she asked me if I was going to eat her liver. Of course, I said no and that her funny idea made me chuckle.
We met up at the subway station so that she could see that I am not Hannibal Lecter. It was raining and I was soaked but she accused me of being late, she really looked like a shrew. After, I heard a lot of reproaches: my place was a mess, it was too hot, it was too small, etc.
Being of a hospitable nature, I offered her wine, tea or fruit juices… she looked desperate and said "water please if that's the only thing you have got." I tried to stay calm. After, she said "you do not make me feel comfortable frankly you do not talk much and everything". Very aggressive, the bitch. She makes her case a generality and takes her shitty feel as a universal reference, if I was not lined up with this kind of exercise, I could depress because of her. She moved in all directions and everything. Super nervous, in addition! I asked her what she did of her day « nothing ». I dug "just watched a TV show, The Fall.
– oh and it's about what?
– a psychopath."
She asked me if I took medication, if I was drugged, and everything… because she found me very calm. There, she started to frankly piss me off but I found that it was a funny question then I returned it and I was right: she is diagnosed depressed for 4 months, is followed by a psychiatrist, has no social life, stays at home, her best friend is an Internet guy she has never met, and so on.
Fuck, she was not ugly but frankly… what a social case! It will teach it's not always a good idea to invite chicks directly to my house… I did not enough test her before, I was too confident!
The worst thing is that she attacked me on my job « you are accountant it looks super annoying, you vegetate all day…
– ah yeah but it's true unemployed at your parents'house it is much better. » The girl does nothing with her life, takes her parents' money, has never worked, has just a diploma of letters and criticizes those who are active under the pretext that it is not "fun" enough…
The thing is that the girl stayed at my place despite the fact that I wanted to strangle her. So I asked myself how to make her leave softly. So I decided to tell her some hardcore bullshit.
I did not care, she was useless. She blamed me for not putting her at ease but, honestly, she was too tense… and she is apparently like that with everybody otherwise she would have friends.
So I told her that my brother was in prison for sexual assault, that myself I had been in a psychiatric hospital, and a lot of shit like that to have fun. It had the desired effect, she left. Phew, I had time to watch an episode of True Detective and I had my quota of sleep hours.
2/ My date last night: one of the hottest in my life.
It was with a girl who lives 35 minutes away from Lyon by car (Bourgoin-Jallieu) so I asked her from the first message if she would come to visit me. Her answer ? "Coming to Lyon is not a problem if it's worth it
– From how many orgasms do you think it will be worth it?
– 3 or 4 could make the job
– Challenge accepted! Thursday or Friday ?
– During the week with my job I have less time so rather on Friday." I accepted. "Now that our diaries are synchronized, what name should I put in front of my date with 3 or 4 orgasms?"
After that, we talked about our respective weekends, cinema, and everything. Then finally, sex. In fact, the conversation was maintained with one or two messages (long enough… about 10 lines) per day until day X. Her most awesome message? "I'm curious to know what you have under your clothes… and especially how you use it? My bra is pretty full. Big tits of pleasure that seems to never displease."
Then I continued on the fact that my parents were teachers, and that I already liked some of my teachers. To what she replied, "I never fantasized about my teachers for my part. But when I say that I am a teacher it transcends most men… explain to me where this fantasy comes from?
– We all had a hot teacher we wanted to fuck, I guess. And then the position of authority, it is exciting to take her doggy style…
– Luckily for you, my students are not part of my fantasies. My authority is natural and the result of my kindness, of my listening. I hope it'll make you hard.
– I'm hard yet."
This girl has the peculiarity of not respecting the rule of 10 kg: she is 1m60 for 55kg. I made an exception because I would have liked to have a professor of biology like her : that beautiful face, those blond hair, those blue eyes, that exciting writing…. Me, my biology teachers were always old women. On the other hand, my Spanish teachers were often caliente. And now, I tell myself that, maybe, they received naughty messages during classes… like the ones I sent to the biology teacher.
When I went out to meet her in her car, I met my neighbor at the bottom of the building. I knew I had already seen this girl (one morning in the elevator) but because she is blonde and very hot too, I thought she was my date. I started talking to her « ah you have found by yourself ? Easily? » She said "uh, ah, yes, hello" and at this moment I understood that it was not my biology teacher. Fuck…
In short, we joined where she had parked and then she came to my house (not my neighbor, my target, for the neighbor we will see later I will probably ask her for salt or a condom one day)… She told me that I had really excited her with my pen, and that's why she had agreed to waive certain safety rules. She had dressed with a slightly transparent top that let me guess her pretty black bra.
Her look penetrated me from the first second: seriously, she has a beautiful face. After a few minutes of fluid conversation to put her at ease (she told me being intimidated), I stroked her hand, hair, face, arm, and so on. Like what, when we both decided to make each other comfortable for it to work, magic operates.
She told me she started getting hot, so I walked around the table and removed her sweater. Then opened her jeans. And then it was gone: fingering + caresses. I turned her face to the table and I took care of her from behind, it lasted almost 45 minutes, she was not able to stand up anymore but did not enjoy. "You want to kill me or what," she said.
So I put her on the bed and went to lick her. First orgasm, finally… She commented "you have just joined the very closed club of those who managed to make me come".
Then we completely undressed each other (yahoo). She climbed over me and rubbed her clitoris against my erect penis, climbing all the way, but without penetrating (and without a condom). It was very exciting. I tipped her back after that and still puffed her pussy. Second orgasm.
Afterwards, it was getting easier, she sucked me by positioning herself on the side (at right angles with me) so that I could finger her again then she re-re-enjoyed. I was very hard in front of this beautiful blonde. I was sure that her totally shaved pussy would be comfortable.
She stretched out to recover from her emotions and I came on her in reverse mode 69: I licked her well and she came again again again. She then told me loving to dominate the guys. I lay down and she sucked me by the time I opened the condom box (it lasted about ten minutes because it was a new one and there was the plastic around but I had nothing to pierce it and I was as I would say a little bit disturbed). Then she rushed me, she fucked me at a crazy rythm. It was violent, like a guy would fuck a starfish to punish her for her immobility. She had three more orgasms in this position. I had a lot of pleasure too. I ended up letting me come.
We relaxed a bit, but not too much and I was back : another orgasm then I fingered her time to get hard again (re-orgasms). Then I told her she was going to pay for it, for having fucked me like that. She had two more orgasms like that, I lasted I don't know how long, an eternity, yet she had a beautiful ass and the size well marked. Her hair pulled and her buttocks that liked that I slap them turned me on. She spoke to me, encouraged me, excited me, told me dirty things, called me by my first name or sometimes « baby » to tell me how strong I was.
Despite all her efforts, I did not ejaculate, and I lost my erection. So she started to shake me with a flat hand on each side of my sex, and it put me hard again. But I was really too sensitive for her to continue. So I jerked and she masturbated in front of me. Re-re-re-re-re-re-re-re-re-re-re-re-orgasm. I promised her four, and I tripled the bet.
She left at 3am and wants to us to meet up again, it's not a surprise! She told she is just out of a 4 year relationship (having had a 3 year relationship just before) and that she ended up leaving her boyfriend because he was bald and because he did not fuck her well enough. She said loving my hair and my eyes. She finds me beautiful, and that, it is very good to hear coming from a sexy 26 years professor.
About age, my parents will arrive soon because, on Wednesday, it's my birthday. I will be offside until Thursday. Too bad, I still have two more girl to fuck to reach my goal. I stay in my comfort zone the time to finish the job, then I will try rather some new stuff like more SPU or NPU, or I will go drinking drinks with chicks to make the tension rise several date to really desire them before sex. That said, last night's date shows that one can have an awesome sexual connection with an unknown.
Well, in the meantime, I will go swimming. I bought a swimsuit at the Manaudou shop, and I must say that the texture is very nice, it caresses me well the cock when in contact with water. I go out of water with a big libido, in general…
May the God of the Game be with you!