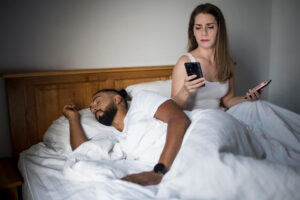 October 13th 2016,
Hey guys, I think I finally know why we have two eyes, two arms, two legs but only one cock. It is to be able to finger two naughty girl sucking in duet.
Yesterday morning, I was still sick. I had fever and sore throat. But now I go to work no matter what to contaminate everyone. So I went to work and I looked good. Better than losing 100 euros per day.
Meanwhile, I was talking on Tinder on our profile couple with a girl with a strange name. Her description was nice "Better to have fun than to be a couple". I opened with "We do both: we have fun and we are a couple."
She said that the experiment was tempting her, that it had been a long time since she wanted to try a threesome and she was very motivated. On the other hand, she had 0 experience with the girls. I said that I would teach her and we agreed on a date that evening.
Obviously, The Teacher started to pout because it was organized at the last minute but I sold her the idea as "you will realize the fantasy of her life." My girlfriend finally agreed, a little reluctantly, to make this threesome "it's your guest so you'll manage because I do not want to do the talking."
Last night, I went to her house as was agreed and she greeted me with her grumpiness. It was really bad. Then, the second girl called to say she was in front of the door. So I asked "I send her back home or?
– No it would not be polite."
The girl in question is 19 years old, is rather cute and nice. It surely contributed to the fact that The Teacher returns to smile. Good, because the young girl was very intimidated: we had to chat for more than an hour before she felt like sitting down with us on the couch (before that, she was on a chair at two meters away).
She explained to us that flirting with boys is easy but that every time she talks with a girl that, falls into the water. We came to the conclusion that girls are much more difficult than guys but they would be happier by less complicating things. With us, it worked because there is the photo of my darling but it is I who communicates, with masculine energy. A super effective blend for dipping panties.
Once completely on the couch, we started to get warm. They caressed and I took their hands to put them on my cock to show them that my dick was hard. Then we undressed and went on the bed. I pressed The Teacher on the mattress to remove her panties. The youngster came next to me and I showed her how to lick and finger. She was a serious student, even that The Teacher had an orgasm. While the girl was licking my girlfriend, I began to finger her by stroking the clit. She enjoyed, too.
After that, she sat on my girlfriend (lying on her back) licking her… while I licked my girlfriend. Both orgasmed. Orgasms are communicative!
Then they were two on me and sucked as a team. I let myself go and then they took turns riding me. Finally, I placed them one on the other and fucked them by changing pussy regularly: one doggy style and the other missionary.
I ended up coming in the young, doggy style. And I spanked her.
Finally, everyone had a great evening. The Teacher has enjoyed three times. It was really not worth pissing me off upstream. If she had canceled this evening that I had broken my ass to organize, I probably would have reacted badly.
Fucking a new pussy did me a lot of good. What do I like women! The novelty in bed, it's exhilarating. Even if the girls we fuck are generally less beautiful than my girlfriend, kissing a new mouth and everything is very good! What I mean is that when you undress either there is fat, or the breasts are not very pretty… but it does not matter in this context. For a one night stand, it's cool!
I really want to help my girlfriend become more positive, cooler. The last time I wrote about her, I was really pissed off. In truth, we laugh really well and she is very attentive. I will give her some time to learn to control herself and take life on the right side!
Sometimes I think I would like to have a new girl just for me. I found it exhilarating at the time. So, I do not know if I will cheat on her from time to time. In any case, if I do, I will never tell you (it is not polite).
I realize that there is almost only the Game that makes me hard in life. It's certainly better than having nothing that fascinates us, but if it prevents me from starting a family, I would be disappointed. On the other hand, I talked about it with my dad and he told me that this compulsive reproductive instinct is natural and fades over time. Maybe I'm still too young to fit myself even though I met a girl who could do the job? There's a moment, you have to accept things as they are…
So here we come to a turning point in my life. I really wonder about my lifestyle.
I think I'll continue writing when I fuck a new girl until December. But I think it starts to go around in circles, the girls excite me but do not surprise me anymore. I feel a form of weariness. So, if I stay with The Teacher, I think this will be my last diary. I would still write on my blog to give you news occasionally when a doggy style will be out of the ordinary… but that will be all.
My job also breaks my balls. The secretary spends her time pissing me off when I arrive at 8:04 instead of 8 am, telling me to close the bathroom door when it is broken, lower the hood of the copier and everything. Seriously, what an old maniac! And then she turns around for an hour to explain to me how much back pain she has. Damn, but if you want to be pityed, bitch, do not spend your time breaking the balls! Colleagues are really stressed too, and they do a great deal to me, especially a 30-year-old who still lives with her mother. I do not like it. I hate open spaces !
Suddenly, I will probably do the three-year internship in this office but hey… without more motivation than that! Even if that's what I need in the long run to not be a poorly paid slave all my life, they should not piss me off much otherwise I'll leave. Without regret !
It would be so much more horny to be able to live on my passion than to languish in an office for 40 years. I also have a new project: I write an ebook on friendzone and sexualization. My Youtube channel is doing pretty well, my goal is to have 2000 subscribers next summer.
Among the positive things, I can go to the gym regularly, several times a week. I lost a little weight since the start but nothing crazy (like 2kg). So, the results are not miraculous but my case does not get worse, which is already good!
Finally here… all that to say that even as a couple I fuck as many girls as a lambda guy! It's cool !!!
May the God of the Game be with us !
PS = when this girl sent me a text, I put her number in the Facebook search bar. I then fell on her profile and saw a friend in common. I asked my friend "do you fuck her?
– huh how do you know?
– I'm called the mentalist
– well tell me how you know I thought being discreet with her
– she has a metro ticket
– nom d'une pipe ! I want to know everything
– and what about her shark tattoo?
– did you fuck her ???
– I made her fuck with my girlfriend
– it is awesome !"