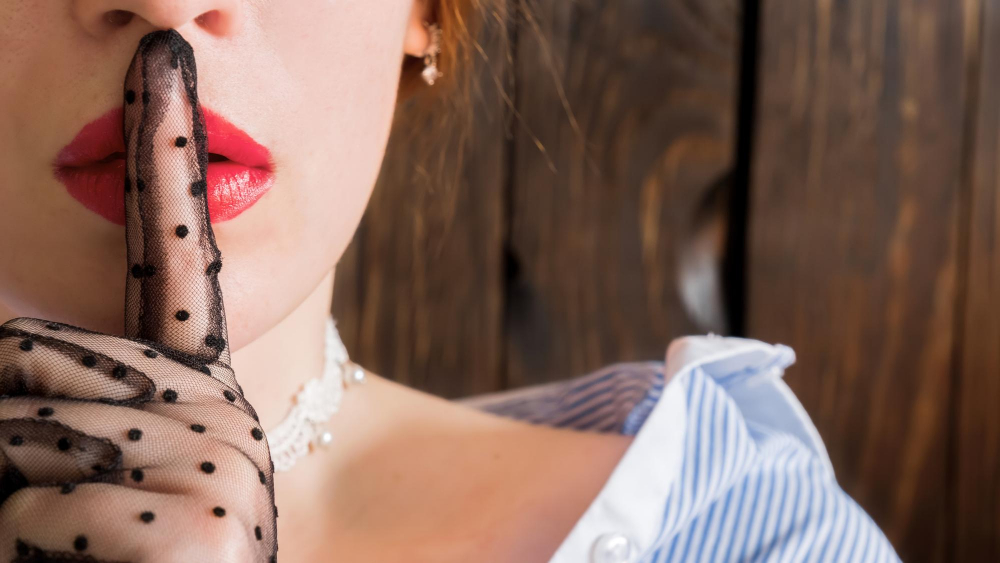 Definition
Dirty talk is a form of verbal communication used as a sexual stimulant during preliminaries or sexual intercourse. The dirty talk is a role-play in which your partner and you forget your prudishness and let express your sexual desire and your animal side.
Precautions
Many women like to hear diary talk in bed (some even love insults… but in this case, we get dangerously close to BDSM!)
Besides, in doing research to write this article, I noticed that many female sites describe dirty talk as a common female fantasy. Good news : it's a practice that also excites me a lot because it places me a little in a position of dominance (I'm not saying that a man must subdue a woman because we are equal… but the fact is, in bed, many women enjoy being dominated and many men love to be in a position of dominance).
Many men who are educated by feminism and are full of limiting beliefs think that talking to a woman like a bitch is a lack of respect (and it is because, said this way, it can be like aggression). Except that if it excites your partner and makes her orgasm, isn't it rather the fact of depriving her of what she likes that is a lack of respect?
A survey corroborates my point: it showed that while 36% of people have difficulty expressing their sexual desires, 44% say they like dirty talk in bed.
Moreover, the Marquis de Sade would also agree with me about the importance of the art of dirty talk to drive your partners crazy with desire since he wrote « une femme bande par l'oreille (a woman gets hard with her ear) ».
Whispering naughty things to your girlfriend is therefore fun, exciting and very effective.
How to start with dirty talk?
Above all, you have to build a climate of trust with the woman to whom you want to talk dirty. Indeed, some not really open-minded chicks could confuse you (you, the expert in dirty talk) with an asshole who does not know how to talk to women: fuck ! So you need to prepare the ground a little before warming her.
For the shy people, one of the best ways to introduce naughty exchanges is to start with texts, because a written message puts less pressure (on you and women)!
This will increase the sexual tension between the two of you. But do not try to precipitate things if you begin : start with light messages… try to go farther and farther … as far as possible!
Be careful, you are not the only one who can transgress the limits and speak crudely… if she likes it, let the girl take the initiative and answer her either by playing the shy guy or the big pervert (depends on your own style).
What's a good dirty talk?
The first important thing is to make it simple! The two most common mistakes are wanting to do too much or not to assume and inhibit. No need to think too much: just express your desire with the words.
You will also need to vary your words: a minimum of creativity is always welcome.
Finally, when you make love, the ice breaks and it becomes more and more easy to let it go! It is, for example, effective to whisper naughty things to her in the ear while you take her in a position like missionary or doggystyle.
"I've been waiting for you all day"; "Do you feel it, right there, my dick?" "; "Put away those thighs that I devour you"; "I'll make you enjoy it until you're exhausted…"
What is interesting with this form of flirting is that you might be surprised by your partner's reaction. The more you tease and more some women react in a hardcore way. Some said to me "I want you to fuck me RIGHT NOW"; "You gonna give me that big cock, yes?" "; "I must suck you like your bitch to thank you!" "
What if she reacts badly?
Do not be sexist but know that some women like to hear "You're a big slut, you" or even "You love my cock, eh, slut." Do not forget that this is a role-playing game to spice up the sex and that not all women go to that point.
The pleasure comes from going beyond the limits by surprising and provoking (dirty talk is a fantasy, so there's any other meaning to your words than the obvious one). But the girl must understand it and agree with. Moreover each person has his/her own limits …
Some are more tight-ass than others: you may come across a chick who will get shocked and ask you to speak to her "correctly" (it's quite rare) just as you can fall on a chick who'll love to challenge you and excite you by playing the hottie.
If the girl seems rather shy, if you're not sure how she reacts, then do some testing. The main idea to remember is that these words have a strong and sexual emotional charge in the girl's brain. The art is to pack them well and use them gradually to achieve the desired effect.
Do not be afraid to fail : start soberly, improvise, create your own phrases and have fun together!
Anyway, be gambler and provocative and prefer to go with your gut. We are sometimes too afraid to lose the girl by going too hard when it is often the best thing to do.
Nevertheless, if a woman asks you to stop talking to her like a bitch, which rarely happens when it is well drafted, do not argue and stick to it.
To go further, know that I speak of many female and male fantasies in The awesome lover's manual ! 😉