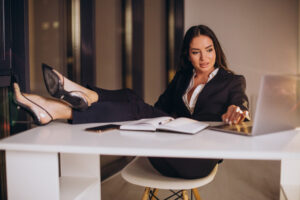 March 5th 2017,
My conventional break is finally signed: I will leave the world of accounting on March 17 to devote myself full time to my blog and to the Game!
I am very motivated! Since the fuck of the other day, I filmed an approach in the street, I also filmed a mission kissclose (kissing more than 5 girls in a bar during a normal evening) and I went back to bed with my ex…
The Teacher and me, we meet again regularly. In fact, we only kept the good sides of our relationship. We fuck, we play sports together, we go to the cinema, to the restaurant, we laugh … It is much less boring since we broke up because she does her best to get me back.
For my part, I'm not against the idea of ​​getting back with her because she's really a pearl, this little girl : pretty, smart and very open minded.
On the other hand, I need some independence to be able to manage my online training project. I really want to do something amazing. This will really be a "practical" project, but there will also be theoretical classes to better understand the relationships between men and women and learn how to improve your sex life!
It may not look like this but the idea is really clear in my head: it's going to be the most complete and transparent training that exists so far to my knowledge in the world of seduction . In addition, I really want it efficient: not too much intellectual masturbation and crazy results for students who will trust me by buying my product!
Well, let's get back to sex. This week, I swept a girl online, she told me "I am very curious and to be honest I want to try new things" then "you have an original approach, it intrigues me"! I then got some shit-tests that I published in my training Cyprine because they are interesting! Then she gave me her number: I had to insist by texts to get more and more naked pictures. But I was entitled to her beautiful boobs anyway (who dares can win)! For the rest, she told me that I would see her buttocks in real life!
It is therefore logical that this girl from Adopte came to visit me for sex. I like when the girls are not pains in the ass and have a little guts! She was rewarded: less than 20 minutes after crossing the threshold of my door, I already had my tongue between her thighs. Then, we fucked twice, we talked a lot and we hugged!
This chick is a lawyer, classy, pretty, very hot and very naughty! I loved this afternoon spent with and in her. It will remain a nice memory. This kind of adventure, that's really why I play to the Game! I was full of adrenaline, endorphins and oxytocin!
I also think she would agree with me because, back home, she spontaneously offered me her help if I ever had problems with my conventional break or my bosses. She also told me that I had fucked her very well, that she liked to be taken like that and that she hopes having left me a very good memory (basically, she hopes to have let me with a strong impression in bed). It's really nice of him. her, I have a lawyer in the pocket (next to my condomns) : it can useful! 😉
The fact is that I needed two-three tips because my bastard bosses searched my history at the office and found The awesome lover's manual. They were shocked… but could not do anything against me because everything is already signed!
The last days in the office may be long… but I assume because I should not have been so careless. I usually log on with Firefox's hidden browsing, but I probably forgot two or three times to switch to secret mode. In short, we don't give a shit.
May the God of the Game be with me!