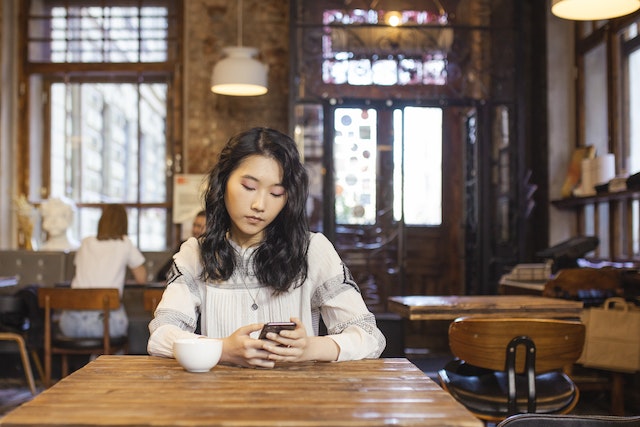 The first thing you need to understand is that, the online dating, it is very close to marketing. Certainly, on Tinder, there are surely bigger guys, better dressed, richer and sexier than you… but if they do not manage to sell themselves, they will have less success. You have your own qualities, your own weapons, so you can showcase yourself and learn how to attract women's attention on dating apps.
I will now explain how to create an attractive profile on Tinder (photos + description) ! The following is obviously valid for other dating apps like Happn, Lovoo, Once and so on…
Setting the application
First, the more you live near a large city, the more likely you are to meet women (statistically). For my part, I configure the research to be put in contact with girls between 18 and 35 years old. And for geolocation, I say that I want them at a maximum distance of 15 kilometers (I do not want to cross France just because a girl said she wanted to go have a drink with me).
Then, know that Tinder offers a fee-paying formula and a free use (50 likes per day). So, I do not advise you to pay to have more likes… 50 a day, that's ample enough to fuck a girl or two per week.
Finally, keep in mind that there are some very beautiful women on Tinder. And, although the application has the reputation of facilitating one night stands, not all registered women are looking for sex without a future. There is really everything on Tinder: those who want a "serious" relationship, those who just want to have sex, those who keep their feet firmly on the ground but are closed to nothing, those who will speak to you for three weeks then you will delete without another form of trial the day before the date because of the fear of meeting a total stranger, etc. Avoid at all costs the babes who are only there for their ego and count their matches without ever meeting any guys.
Photos are important
Many seductive advice sites tell you to only upload between 2 and 4 photos to maintain the mystery. I do not know where this legend comes from (a guy had probably written this shit day then they all copied) but I do not agree with them: put the maximum.
In addition, each photo must have meaning, and be consistent with your description. Show that you know pretty girls, that you have a social life, that you go in for sports, and so on.
But be careful, avoid topless photos taken in your bathroom with the toilets as a background, avoid pictures where you are drunk, where you kiss the chicks, etc. If you want to show off your muscles, have a photo taken by a buddy while practicing a sport. If you want to show that you have a social life, make a beautiful smile on the picture. If you want to show that you are successful with chicks, make sure the girls seem to "chase" you in the photos. Pictures with animals or with a young child (if it's not yours)  that's cool!
It is important that users can identify you. So do not put pictures of yourself, unrecognizable at the bottom of the image, diluted in a crew of friends. The first photo should be a portrait of you (the best you have), good quality, with a stylish filter to attract the eye (eg black & white).
Know that even if you put 5 photos of you where you are sexy and a bizarre picture (so eliminatory), girls are very likely to dislike you. The babes have a choice because there are so many sex-starving men (and they do not yet know your value), so we must assume that they do not take risks.
The description on Tinder
The description on Tinder seems to me to be important to stand out because most guys do not write anything.
But, be careful, avoid at all costs the romantic cliché sentences (written by you or not) and also avoid to list all your social networks like a teenager. "There is nothing more precious in this world than the feeling of existing for someone"… thank you! By the way, do not say this kind of false banality to start a conversation with a woman with the hope of being thought of as a lover.
Also do not make a description like there are already too much lookalikes "Hi it is Julien (we saw it on your profile already), I am 28 years old (we saw it too) and I want a beautiful meeting (how original!)" Also avoid absolutely the stuff seen over and over again like "young millionaire very beautiful and intelligent, seeks woman who does not believe everything she reads." I think it's very bad !!!
Instead, use a powerful sentence, such as a hijacked advertising slogan.
Above all, assume that you are on Tinder to seduce, so do not write "my best buddy registered me, wait and see, I do not really believe in Tinder". This kind of shit makes women run away because assuming is one of the keys to seduction!
Other important things:
– Do not specify your size… I fin dit ridiculous.
– Talk positively about your job.
– Do not neglect spelling… if necessary, pass your text in a word processing software before publishing it. Avoid abbreviations, conjugate verbs correctly, use punctuation.
– Be creative.
– Ask yourself what the girl could use into your Tinder profile to feed the conversation?
Finally, I show you another of my profiles so that you can be inspired by my description (but be careful not to copy me stupidly because you are not me then it could turn against you when you meet the chicks) :
To go further with the online dating, I propose:
– My guide "Secrets for seducing on the Internet"
– The module 4 of my Formation Cyprine "Online dating"