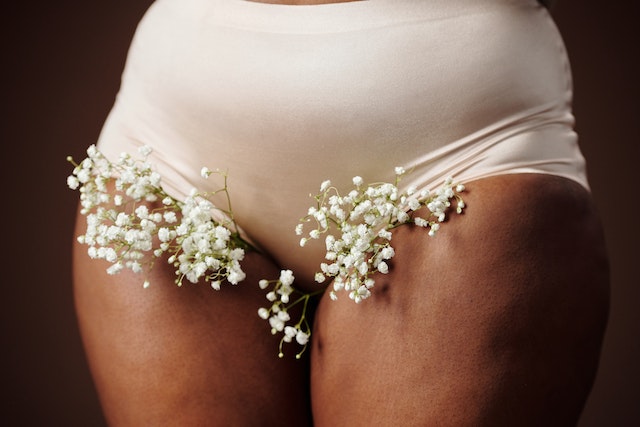 I was talking with a friend the other day: we were looking for a girl for a threesome, so I showed her my conquests so she chooses one. She guessed almost every time which ones were shaved/shaven and which ones had hair between their legs. I was impressed! She explained her technique. I will teach it to you in my turn.
It's a bit of a trick mentalism. In fact, it is based on the fact that she is a girl… and therefore she understands the other chicks.
It is based on the makeup of the girl. If she wears very few makeup, botched or old-fashion, she must have the tuft. If, however, she is very feminine, dolled, well made up, (scented,) then chances are she has a hairless pubis.
Basically, there are 6 possible configurations:
– Either she has the tuft, so hairs that even protrude from her swimsuit.
– Either she tamed the tuft, so she it is not visible in her underwear.
– Either she has a metro ticket more or less thick : this is the part that hurts the most to pull off.
– Either she is completely shaved.
– Either she is completely waxed, which removes entierely the hair opposed to shaving.
– Either she is shaved or waxed but it has grown back. I call it the carpet.
There even are girls who don't want to have sex if they are not perfectly waxed, in this case it's too bad, because we prefer a woman who has sex than a women perfectly waxed but who's a pain in the ass. Just my opinion, btw.
When I talked about it to my mother, she told me that it was a shame to not have hair, that only sluts and other porn actresses have no hair… like a little girl. In her time, maybe, this might be the case. But the truth is that for aesthetic reasons, the coquettish Greek and Roman women already waxed. In Aristophanes' comedy Thesmophoriazusae, played in Athens in 411 BC, a group of women proposed to remove the intimate hair of a guy disguised as a girl to teach him how to become a true Greek woman. "No waxing, no hair removal!" he cried once. It must be said that at the time they practiced it with burning ashes…
Today, most chicks below 25 years are shaved or depilated with wax (8000 hair on average that's too much for the tweezers). Maybe not those who have not yet begun their sexual lives but others generally are. Nearing thirty, I've seen more girls with the metro ticket on their pussies. Is it already composted? This is the question.
As notorious fucker, as a libertine who is not fucking libertine chicks, I must say that I took a liking to any all clean, hairless pussy. Sometimes it's funny: she has got no hair on her pussy, but has on her ass. Well, sweetie are you kidding me ?! In this case, the best idea is definitely fuck from the front! 😉
The hairs on the body just like the pubis serve to limit areas of friction. Pubic hair is useful especially during sex because they create an interface between the skin and promote a shift to a different skin.
A study showed higher scores of sexual satisfaction for fans of completely naked pubis, without the possibility of saying if the women who feel the more comfortable with their bodies and their private parts revealed are the ones who likes showing them or if the pubic deprivation promotes sexual fulfillment.
Social pressure and fashion phenomena also influence the girls about their intimate hygiene (although some hairs, it's not dirty).
The full shaving is more common than full hair waxing. Certainly for practical or pain reasons.
For men, shaving or clipping the hair makes the penis look bigger. In any case, it's better to avoid the Amazon forest at this place if you like blowjobs.
PS : To go further, do not hesitate to read my ebook "The awesome lover's manual".