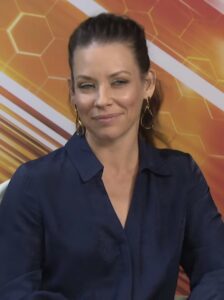 August 7th 2015,
I slept with Evangeline Lilly last night! Well, I admit: it was not really her, but she damn looked like her.
I'm really euphoric this morning because she was really my type : not tall, brown haired, blue/green eyed, thin, with a beautiful face and a small nose.
This double of the actress is podiatrist and is 34 years old but looks like a girl of 20 years. Her belly is super flat and muscular (she swims too). Her breasts are not big but keep straight. Her legs are delicious. One might think that I am exaggerating but this is not even the case…
I thought what happened on Monday night with the blonde hottie was exceptionnal but I admit Lyon spoils me right now : the city entrusted me another one of its sex bombs. I approached her on the Internet, that one too. I write you down the approach to inspire you!
Her profile said: "I can be as nice and placid than unpredictable. As soon as I have time I like to go out and have fun, but after having enjoyed celibacy I am looking for a man who will tame me and mellow me ! "
My first message was powerful "I think I will tame you but I'm not interested in mellowing you 😉
– Oh you think? Lol
– Yes if you leave me a chance
– Why not
– Great ! Wanna come over for a massage ? A real one, huh, do not imagine bad things;)
– Oh good idea 😉 I am not in Lyon these days, maybe this weekend? I'm back for a few days before leaving again.
– Yes you will see it will relax you! I even have some essential oil I just bought a diffuser. Perfect. I hope you spend a good holiday and are doing good trip! Are you having fun? OK this weekend that suits me… Friday?
– Well I tell you later ? I am just back a few days and many things are already planned.
– OK… but do not worry, I do not think you will regret your decision to come to me 🙂 or Thursday it actually does not matter to me
– I hope so;) you're where in Lyon ?
[Blah]
– Tomorrow I'll be very late, but we can say on Thursday… I'll reconfirm !
– Go for Thursday 🙂 you will not regret it!
[No more news until Wednesday evening when she tried to piss me off]
– Tomorrow at 9pm, it's still good? 🙂
-Isn't it possible on Friday finally? 😉
– Honestly it is 1,000 times better for me tomorrow [I'm not your dog even though I like to lick everywhere]
– Ok I'll try tomorrow
– You will have be entitled to a nice massage because you're coming when it suits me
– Cool where do we meet then ?
– At my place ?
– Yeah well I generally do not like to meet a guy directly at his place.. I only agree because you promised me a massage
She arrived late but with a bottle of white wine. I like well-mannered girls! I politely wetted my lip because I no longer drink alcohol. She, meanwhile, has drunk almost half of the bottle. Must say we chatted for over an hour.
I quickly learned that her sister lived near from me. She saw my library and my books on meditation/Buddhism then asked me lots of questions about. I told her my paranormal experience and she told me hers : one day she saw a black shape in her house… she was 8 years old, was very afraid and went into hiding. The next day her hamster was dead, she is now convinced she has seen death. I freaked out when she told me that so I directed the conversation to more exciting topics.
We talked about her sex life. She did not wanna tell me first but I started and after she opened. I told my orgies and the afternoon I fucked after a session of body painting. She told me that one night she directly visited a guy met on the Internet, she undressed in front of his door before entering while he was waiting naked on his bed: they directly fucked without talking before. It was one of her fantasies. Her other fantasies are: 2 guys for her, and 1 guy and 1 girl for her. She tried once to have 2 guys for her but one of the guys did not get hard. Too bad for him !
I FINALLY asked if she wanted to see if I massaged well, she replied "why not? "So I grabbed her up and removed her top. I told her to get on the bed and she removed her skirt herself. I said "forgive it and take it on." She did it by asking "why?" I have just taken if off myself by approaching her and looking into her eyes. It was very sexy. Just like her pretty blue underwear. She layed on her stomach, I turned the essential oil diffuser on, grabbed a cream that smells good, took off my polo and put myself astride her.
I gave her a massage for a while and then I followed up with the combo "fingers in her pussy with one hand and clit caressing with the other hand." It lasted a long time. She trembled, had spasms everywhere, she almost came but stopped me! She sucked me a few minutes, very well indeed, and said "I never finish a guy like that sorry
– OK ". I wanted to lick her but she did not want: she said she doesn't like it and it is very hard to make her come anyway. Never mind, I took care of her with my magic fingers.
She wanted to resist but I obliged her to orgasm by taking her firmly. I admit that it took a long time. I was like a locksmith trying to open a safe. I listened carefully to the changes. Then she came over me. We fucked WITH CONDOM (I'm proud of me). She jumped me while I admired her great firm breasts and her very cute nipples. We went on a missionary with and without raised legs. Then in lotus. And finally, doggy style. She fucks and kisses very well, she obviously is a woman of experience.
She told me after the battle she had mistakenly accepted my request on the site but after she wondered "why not?" When she decided to get up for a glass of water, I really wanted to take her up. But I was too tired. Then we got a hug and she left. She texted me to wish me a good night … and it worked.
It may look easy when I tell it but remember you first must convince the girl to come to you, then have a correct BL (be a little bit dominant) and give her orgasms.
Well, tonight I'm on vacation for one month (the office is closed). I do not think I will fuck another girl from Lyon before going back to Aix because I need to sleep and I have several episodes of Arrow to watch!
Anyway, picking up in a big city like Lyon, changes life. I'm sure if I lose my job (if I have more free time in fact), I could fuck 9 or 10 girl per month. Anyway, maybe I'm dreaming. But according to Snipe: 4FC/month it's already a good PUA level…
I trust his judgment because this PUA is my reference in France. Unlike Nicolas Dolteau who says he is the "best seducer of France" but blocked me directly on FB when I left a comment on his page to explain that I do not agree with some advice he gave. I'm not saying this guy is bad, just that he is best in marketing than in pick up.
See you !
May the God of the Game be with you !