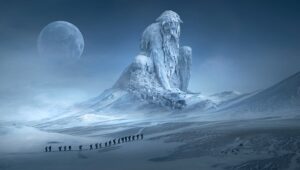 This text is a bonus to my Diary of a French PUA 3
Here is the assessment of the Gentile Giant after a little more than a year of seduction in Lyon.
Best moments
These fucking crash and burn. I really understood at that moment that it was necessary to take seduction as a game, with a smile. Not like something serious and indispensable, even if it was for me.
Best results on the field
My best results have been online. I found it so enjoyable (yes yes) to bring girls home that I had never met and fuck them that same evening. Surely the most unlikely thing I would not have thought of doing someday.
My results
I am pretty satisfied with my results overall. Unfortunately I was fickle, so I had rush periods at 3 FC on the same month and then nothing behind.
On the other hand, I'm happy to have FC on all fields (street, online, night).
Your regrets if you have any
My inconstancy maybe. But especially my One Itis that made me spend a bad time. Although in the background I think it was a good thing that it happens to me. It will have made me understand things that will serve me for the next time. It's all well and good to read lots of articles on it, experimenting is better.
Quantity / Quality Target
I went from 2FC in total in my life in September to 10 today. So Quantity, Done! Quality too. They were all pretty hot (HB 7) except for two HB6s. And an HB9 (Anissa) and an HB8 (The black and her ass worthy of a US rap clip). So quality too, and I feel it because I became more demanding, and especially less impressed by the hot girls.
My desires for the future?
Fucking a pitchoune from time to time to empty my balls until I find a good and cool girl to experiment the couple. I run more after the numbers, even if it would have pleased me to reach the 15 this year. Unfortunately it takes too much time to fully focus on the game, and I have other projects. Although in the background I would like to fuck as often as possible, obviously.
Analysis of my game year
I made good progress, thanks to you Fab. I think I changed a lot too. I am more confident today. I am even relieved actually. Now, I know that if I want to fuck, I can. I just need to move (a lot) my ass. Before I was without solution. Today, I have the keys in hand, to open the doors to the clitoris of chicks.
I come today to get upset when I meet a girl in the street and I do not act. It frustrates me and it annoys me not to move. Before it was normal for me to walk away. It's all my mindset that has changed.
The mistakes not to do
Do not cut yourself off from your friends. Unfortunately I have turned away from them enough to be fed up with the game pretty quickly. We must continue to maintain friendships and have other activities/passions nearby.
I think it is better to progress more slowly by continuing life next to rather than to game too much over a long period. Seduction is only a step towards our best self, without a balanced life next door, stacking conquests does not really make sense.
To conclude, in two words:
THANK YOU FAB! This year has been very, very beneficial to me. I may even not realize how much for now. In any case I feel liberated and really better in my skin. Whereas before I was rather worried. I can envisage the future serenely this time !!