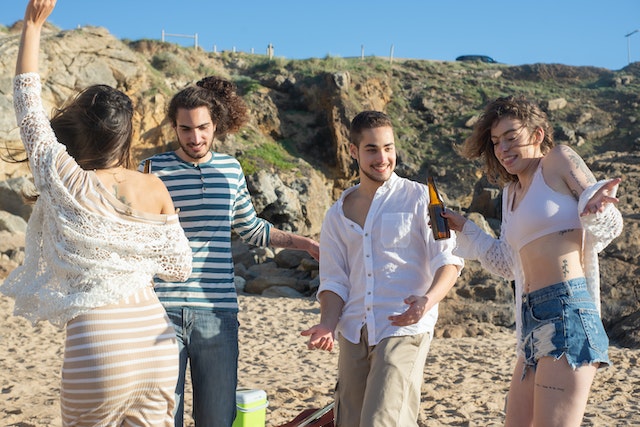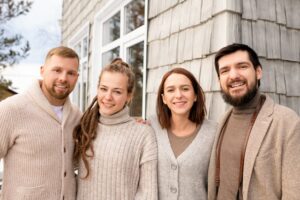 May 2nd 2016,
First of all, know that I'm still in a relationship with La Prof and that I'm faithful ! Does it surprises you, eh ?!
The truth is I do not feel the need or the desire to do such a thing. And most importantly, I do not want to hurt her. I told her that I will not sleep with another without her, so I do it! Of course, sometimes a new naked body energetically riding me after work would not displease me, but I tell myself that it would hurt her so it's not worth it. In addition, she gave me a thought that exhilarated me: "they have had several years to find you and enjoy you in bed, for those who haven't, too bad for them, now is too late !!!"
Since my last post, we have made another show on Wyylde (the new name of Netechangisme) bringing together more than 500 voyeurs. It was so exciting! There are a lot of couples who do that online, it's good amateur porn…
On the other hand, on libertine sites, girls are as boring as elsewhere. So, still no threesome in sight. They are rare, not available, play the princesses and don't really answer messages. People are stupid too: they believe that because we are young (the average of the people there is rather 30-40 years), we do not know how to fuck. Hahaha! So, we created in addition a Tinder common account (back to basics) to pick up bisexual chicks from Lyon.
At work, I'm in a new company. Paid like a king, well treated, in a beautiful office with big files that generate millions (we even have a club and a bar famous in Lyon). I have more work and more responsibilities, but hey, I do it heartily because I do not hate my boss… yet.
I admit that I would prefer living thanks to my blog. But except this personal goal hard to reach, I enjoy a good professional situation. As a result, I'm standing there, and I'm not ready to unveil my identity as Cyprineman. I play the good guy in all respects. Them, on the other hand, are alcoholics, they often take drinks in the office where the girls sometimes undress. It's special, but yes, there's written "accounting experts" on the door. Well, I prefer that to the other stinky guy I worked for before.
Friday night, we returned to the libertine club with La Prof. At 11pm, it's already late, there: we met a group of 5 who left (the poor girl was probably screwed by her 4 friends). It was "youth party": €22 for couples, free for single women and €70 for guys (despite the price, I can tell you that there were many guys alone).
We returned to the club with sauna/steam room where we walk everywhere naked. For information, there are other types of clubs where meetings are dressed and where we only undress in the rooms to fuck. But while waiting to test other places, I like this concept: undressing in the locker room reminds me when I go swimming at the pool.
Beside us in the jacuzzi, two girls alone bathed naked (like everyone else). But they pushed everyone away and finally nobody fucked them. Such a waste ! They were young people who did not assume, who said they had come "just to see" (as if it was possible to remain unmoved in this torrid atmosphere). Well, it does not matter because, by the force of things, they "were seen" too. I love watching the girls. It's exciting, and even if there are not only hot chicks, there are still a lot of cute girls: it is much more effective than the physiological saline to rinse my eyes.
Otherwise, we fell back on two guys we met last time. They stuck to us but soon realized that it was dead for them. For the anecdote, one still had time to tell us that he masturbates "sometimes a little" men just to bang their wives. I do not know if it was a proposal or whatever but the conversation turned short…
Finally, overall, we were less harassed and quieter than last time. A guy recognized us thanks to our live and came to congratulate us! He told us we were the best couple in the club! It pleased my girlfriend… Which made us want to go and fuck in a room with a window but the door closed so that people can talk to us but not join us.
In fact, people go there and fuck almost all the time in closed rooms where you can not see them. I find it's a pity ! We were the only ones to make the show that night… Blowjob, cunnilingus, riding and doggystyle. All that under the comments of a young pervert who shouted "oh yes I love this rump, let me see more closely your beautiful little pussy, etc."
After that, we went to the sauna and then to the jacuzzi where I approached couples to propose side-to-side. They all answered "No, we find it frustrating, we want to do at least some mixing." And they took us up as if we were shitty beginners while we fuck surely better than them. But hey, as my girl was the most beautiful in the club, I did not give a shit…
It is certain that if one manages to detach, at least in a club, from this desire of possession of his girlfriend: there is way to have fun even more! We can get lots of chicks if we accept that other dudes fuck ours. If ever we come to decide that « in the club it's not cheating ». This is, in fact, only a question of beliefs, reality and state of mind… In this regard, a guy in the club explained that he could sleep with libertines (without telling his girlfriend ) but in no case with not libertines girls otherwise it would be to cheat on his girlfriend. I did not really understand this but why not…
Finally, we decided to go upstairs where I licked La Prof in a room, without closing the door, this time. A lot of people came around to see how I was doing to make her come so hard. At the end, a guy asked us « Please, can I jerk on your feet? » We said no on the spot, but it would have been funny, I think. The next time, he will masturbate on the feet of La Prof, it would make me laugh!
After, we went to the bar for a drink of water. There, a couple offered us a drink: two beginners like us, it was even their very first night in a club. And they did not want to swing! According to my girlfriend, the guy was not very beautiful but, the girl was ok (to compensate, he had a huge cock). Suddenly, we started by taking a shower all four: The Teacher sucked me and it warmed them. I then crossed the club with the hard cock to join the closed rooms upstairs.
There, we fucked side-by-side: our girls sucked us next to each other. It was pretty funny to see the other babe sucking at the same time that I felt mine sucking me. Then, we licked our girls. After, I fucked mine doggy style while the other guy lost his erection.
He finally became hard a little again and took his girlfriend in position "poop break in the woods". Seriously, I had never seen this position. The girl was standing back to him, on tiptoe but squatting without touching the ground.
Quickly, he definitely lost his erection so licked his girlfriend and proposed my girlfriend to relay. So, they licked and kissed and everything. It was sensual! One of 23 and one of 31: the youngest was not the most awkward! I would have enjoyed them taking care of my handbrake too, but hey, so be it.
To say goodbye, the thirty gave me a kiss on the corner of the lips telling me she found me very beautiful. The slut had not seen any new cock for 3 years, that's what had to mindfucked her, I guess !
In short, this couple wants to see us at home for a private party: the guy is a cook and wants to bait us like that. It is true that even if the atmosphere of the club is very nice, it'd be cheaper! It will nevertheless be necessary to set the rules if we decide to go! It seems that her girlfriend liked watching me being blowed… so if she wants to suck me, my darling is OK but she does not want to suck his guy (because she does not like him). She is not very up to be licked by him either. So here, to discuss, I understand that he feels aggrieved and does not want.
So, side-by-side: it is tested and approved. It was exciting because the room was filled with sexual energy! We go slowly in this world of libertinage. We decided that next time we would fuck a little (a few minutes) in all the rooms of the club and then end up against a wall in a place where people do not usually fuck (for the sake of contradiction)! And, believe it or not, it's not even me who had this idea …
We spent the end of this fucking rainy weekend both under the duvet. It was fine until Sunday evening when The Teacher had a crisis « you take me for an object, etc.. » From time to time, it peeps her, she thinks I use her and everything. She did not realize that if it was just for sex, I would have 50 girls at the same time. So I explained to her that she has to calm down because if it does not work between us, it will probably be because of this kind of nervous breakdown. Last night, she told me "find another girl to fuck and bye" before calling me back me to apologize this morning. This logic of trying to provoke something that is dreaded is beyond me.
Earlier, as I said, she was afraid I would leave her so I reassured her. But hey, it's boring! It's a bette rit to make upstream efforts to communicate better and it does not happen anymore than to get headaches regularly (for not much) and regret it after! She agrees with that so it should be better in the future.
Currently, it is not seducing that is a victory for me. Before, I blamed myself when I did not approach a girl, but now I'm proud of myself because I can hold myself back. Like what, everything is a question of point of view… it's fun! No, there's no need to say, the couple is a wealth too. It's different from the Game, but it can be cool too. In short, whatever some bad people say, I'm not apparently sick, I'm not addicted to sex or anything twisted like that…
May the God of the Game be with us in libertine clubs!