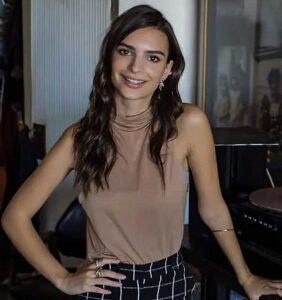 The text :
The original essay : here
My translation : here
Comment:
"I was modeling only occasionally at that time, but I found the same people who faulted the modeling industry for being oppressive and sexist were frequently missing entirely their own missteps and faux pas. Their comments felt much more personal and thus landed that much harder."
Bottom line : the hardest and most cruel people are not always those we suppose will be.
"The implication is that to be sexual is to be trashy because being sexy means playing into men's desires. To me, "sexy" is a kind of beauty, a kind of self-expression, one that is to be celebrated, one that is wonderfully female."
This is because the sexy women have some power, so are feared or sometimes envied, and people try to keep them quiet. Especially with young people like Emily who have big tits very young: they can return men to their old demons of pedophilia for example. Men who are afraid of women, of their beauty or who are weak in front of all that should, in my opinion, more practice the game. Envious women : they should enjoy their femininity instead of trying to silence the other and silence women who have fun.
"Why does the implication have to be that sex is a thing men get to take from women and women give up?"
Good question. When it's a woman, and in addition a woman of character and a model for many young people, who wrote that for her fans, this will maybe make you think more than when I speak. That said, this is what I wrote in The (inconvenient) truth about gender relations.
Now… has someone an objection or everyone understands that this is nonsense, especially that the condoms exist (cf. evolutionary psychology)?
"Where can girls look to see women who find empowerment in deciding when and how to be or feel sexual?"
Probably not in the box.
"Life cannot be dictated by the perceptions of others, and I wish the world had made it clear to me that people's reactions to my sexuality were not my problems, they were theirs."
True. People have many problems with their sexuality and project them on others … instead of questioning (easier). But the guys are concerned as I see surly people every day on my blog. Make no mistake about it. It's hard to be a woman, but it is harder and harder to be a man too (cf. feminism) !
"Honoring our sexuality as women is a messy, messy business, but if we don't try, what do we become?"
I find that it is going better anyway since women assume more to be sexy when they go out at night and everything. However, they do not go after their step and still have big problems with their sexuality… with freedom, finally.
The thing is that men are starting to do the same now. Note, there will be less big jerks like that. But this is not necessarily better because people are more frustrated … so dangerous and in danger at the same time.
"I think of women […] worrying about how their sexuality might accidentally offend, excite, or create envy."
The woman is too sacred by "the nice men" to be happy. The nice guys are not sufficiently respected and become a money machine for profiteers (men and women). Sexual misery benefits to some even it creates pain…
Women suffer (to a lesser extent) to be attractive, men suffer from being labeled "perverse" when they attempt something because they are attracted.
Fucking vicious circle !
Big up from L.A. to all the politically correct people