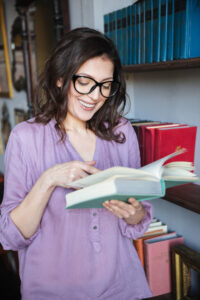 April 24th 2017,
The God of the Game was with me last night: something improbable happened. I was quietly watching the Sunday night game on TV while sending some charms on Adopte… when, suddenly, I received a notification. A little blue-eyed brunette had agreed to talk to me.
I said, "It's cool. Your profile had particularly caught my eye". She said she also liked my description … so I asked, "Do you prefer wine or massage?"
– Massages without hesitation!
– So this will be the theme of our first appointment! What do you say
– if you really want a theme why not;)
– Cool. When are you available?
– you'll not like the answer… probably not before Friday
– Well we'll do with;) Do you have periods of exams or something?
– Yeah, I'm right in there
– What do you study?
– osteopathy… or if you're motivated to move, it may be tonight…"
Normally, I would not have gone because it would have seemed too good to be true. But since she lived only 10 minutes from home (by walking) and I do not work at 8 am on Monday morning, I moved my ass. I got dressed, put condoms in my back pocket and went out around 11:30pm… ready for the adventure!
In the subway, I met fans of Lyon soccer team, Emmanuel Macron and Marine Le Pen. I wondered if I would not be better off leaving to live abroad to fuck girls more easily and especially to avoid being there when France will really  be a mess. Finally, I do not know much about politics so I have to see what it gives, but it seems to me that our governors are always taking us more for idiots and that there are many countries where girls love Frenchies and are more libertine.
In short, I arrived in front of the girl a little before midnight. She came to get me in front of her door. She was cute and since she absolutely did not give me a headache, it was worth it to go!
When she got to her apartment, she showed me her room and then put on her underwear after five minutes while defying me with her eyes. It fucking made me hard, this directional side. So, I licked her, she sucked me and we fucked. It's only after we had a little discussion… and that was frankly funny! Cyprineman is in the place !!!
After cumshots, I asked her (with a little tact) how many cocks she had known in her life… and (suspense)… she told me "only 7". I was surprised so she explained to me that she has been in a relationship for 7 years and that it's only been a few months she was single. That said, I remind you that she is in a school of osteopathy so she sees bodies in underwear all day… that's probably why she wanted to go bad a little!
Finally, I learned a little about her establishment. It seems that girls are the majority and, in addition, there are quite kinky. The existence of such a pool does not go against my theories because it can be related to the medical branch that I have already identified as a "hot tank", like the literature and psychology.
So, at work, guys! If I could make such a move, you can too!
May the God of the Game be with you!