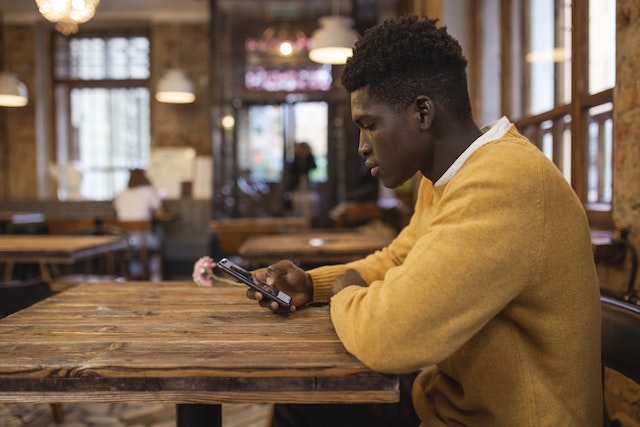 After a whole night spent on Tinder watching guys profiles, I can tell it is not awesome.
I think it is important to see what others are doing in order to stand out effectively.
We'll see the profile types that bloom on Tinder through 15 categories (sometimes some belong to several categories). I'll tell you what profiles are good ideas (you score points) and which ones should be avoided (you lose points) within each category.
If you are looking for inspiration to create your profile, or you if do not currently match with many girls, this presentation will enlighten you surely. If you already are successful, then the bad examples will just make you laugh (it's good for you)! It should be noted here that it is not to be, and sometimes if you have not been receptive to a profile, others may be.
Girls have the right to give their opinion in the comments, but they are not secure from being the subject of a future study, too! 😉
Type profiles:
1 / those who write something funny as a catchphrase
There, it's make or break. It is still advisable to avoid looking like a weirdo.
Asking a question after his joke may be a good way to initiate a dialogue, to receive instant messages from girls.
Warning: self-mocking, that's fine, but on condition to do not devalue yourself.
Good example:
– "They call me elephant. I have a huge… memory. "
2 / those who assume
Even if one just wants sex, it is advisable to do not say this explicitly because of social pressure. Be clear without being vulgar.
In this case, the photo, is really important.
Keep the writing neat, and the spelling too, absolutely.
And finally, when you assume, assume all the way… especially after, on the chat, with the girl. Nothing is more ridiculous than a guy who gets cold feet!
3 / those who do not assume
It is those who are trying to reassure the girls, talking as if women did not like sexfriends (basing on limiting beliefs) while spitting in the face of people who are just free… they do not deserve our respect because, in addition, it is often hypocritical. These are those who say "I'm not a dog, I'm better than those who think about sex."
My advice :
– Do not lie about your intentions because your believe that the chicks do not like sex.
– You must also stop belittling people who are on Tinder, especially when you're on Tinder too. Do not say you are there "just to see".
– Do not ask girls to send the first message. If one is on Tinder, so let's play the game.
– Assuming is a key to seduction, so this category is counter-productive.
4 / those who believe in the charming princess
On Tinder I found a distressing thing: a lot of guys start playing the holier-than-thou like chicks. They were contaminated …
My advice :
– Stop denying your sexual impulses, like thinking that sex is dirty. Especially since most guys say that sex is bad to be thought of as gentlemen… to actually fuck the chicks!
– Do not show that you are desperate. Even if one is sincere in his approach! Give a rather positive image of you!
– Do not write sad stuff to try to go for a romantic ( "I'm a wounded man …") but that in fact just show that you have not forgotten your ex.
5 / the "not original"
For example, many that say "do not worry, we say we met at the wine bar / museum / supermarket, etc. "
This kind of stuff shows that they especially do not assume.
Those who say "I am beautiful rich and intelligent, and I want a girl who understands the second degree humour" it's the same!
These things were maybe a good idea one upon a time but it was too relayed by people and now it shows a lack of originality.
Avoid geeky stuff. And the stuff found on bad seduction sites.
"I do not bite… or if I do, it's nicely! "Another thing we found on thousands of profiles!
6 / those who are too demanding
It is those who allow themselves to write a list of criteria: she must be beautiful (blonde, tall, big boobs…), smart (but less than me), she likes a certain artist, a filmmaker, she has a good sense of humor and she sends the first message. But if she says "hello how are you? "I next her.
My advice :
– Do not be aggressive directly.
– Do not sound too pretentious.
– Having a list of criteria to fill you will make you miss many nice girls.
– A meeting is mutual adaptation. Everyone must make an effort.
7 / those who shouldn't have writen anything
It's always better to attract attention by writing something, but sometimes it's better to do nothing if we are not able to make a correct thing.
My advice :
– Do not start with "I do not know what to say," especially if you have something to say later.
– Avoid anything that might suggest that you have nothing to say.
– Do not write negative things about you. As such you are poor or that  you only use Tinder in the toilets, it gives a bad picture of you! Although it's pretty funny.
– Do not make huge monologues or big text blocks. It's discouraging.
– Those who do not put pictures or not a picture of them, are also taking a bad start. Damn, a girl should be zoophile to like the photo of an emu!
8 / those who play it "Keywords"
At least that way, there's no words so it's difficult to make mistakes in these conditions (although some get there).
The success of these profiles surely depends on the mindset of the girl who sees it, if she belongs to the "hashtag generation," why not. But this is not ideal!
It is yet less boring to read than the big text blocks.
9 / those who probably do not know how to write so use emoticons instead
Avoid, it's not very seller and it feels really "teenage/kid".
In addition it does not always make sense.
10 / those who use quotes because they can not speak for themselves, or have nothing to say
Anyway, always assume that these are quotes by putting "quotes".
The good side is that it allows you to sort if people know this or that film. Same culture in theory = common discussion topics.
Avoid looking like a vulgar guy like bawdy song.
When hyper-known tricks are used, it just shows that the guy cannot speak for himself and has no inventiveness.
Choose a citation adapted to the context, on Tinder. There's personal development quotes that are well suited. Example: "The best way to predict the future is to create it" for passive babes who are waiting for Prince Charming to do all the work for them.
11 / those who advance strong arguments
It is those who, to sell themselves, put forward a well-chosen quality supposed to seduce girls.
My advice :
– Avoid "hello how are you" and "I am not wicked."
– Say that one knows how to cook, especially pancakes or pasta, you should know that it is quite common.
– I'm not a fan of writing down your size and weight in the description. It looks like these men are either boastful or complexed.
12 / those who play the "poets"
Avoid cliché ellipsis "…"
Although we can say true things, it's often ridiculous. Do not write stuff that you could not assume in front of your friends.
13 / those who play the "rebels"
It is those who want to take the opposite view of classic profiles using irony. The girl needs to be able to interpret the lines as humor then do not be too hardcore.
My advice :
– Do not show hatred or frustration in your profile on Tinder.
– The best is when it's easy, funny and powerful, like "I love the spinach at the canteen. "
14 / those who play the card of mystery
Putting pictures where we never see your face, it's not very seller.
15 / those who have read my ebooks and play the "PUA"
For more tips, have a look to my ebook about online dating : Secrets for seducing on the Internet !