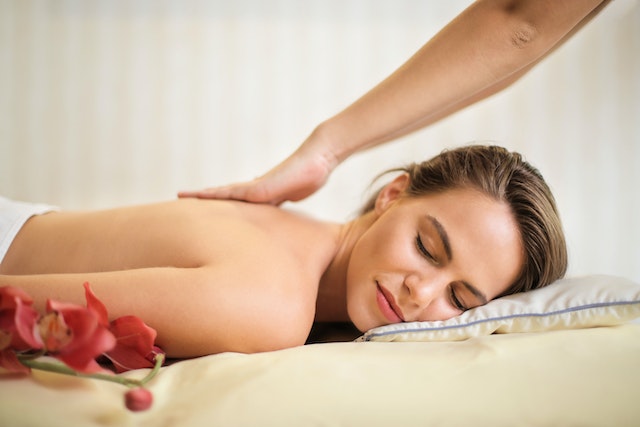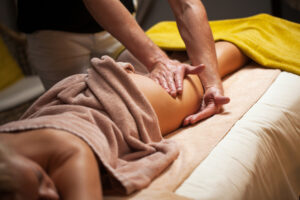 Why learning how to massage women or to give an erotic massage? The category "lesbian porn" is full of videos of erotic massages. Erotic massage is a practice that makes many women fantasize. I'm going to talk here about erotic massage for women: make it your specialty and you will drive a lot of girls crazy of you! If you are a couple, it seems ideal to spice up your antics…
Massage to sexualize
The massage as preliminary
You can not start a car in the middle of winter and go fast right away. You have to heat up the engine a bit… and prepare it for shifting gears. With women, it's the same!
So, you can give her a massage to warm her up, they usually like massages and it can seem like an innocent proposition: it can deactivate a possible Last Minute Resistance (but in the collective unconscious, they implicitly accept the fuck in 90% of cases if they let a guy massage them).
A massage to relax
Make yourself comfortable, and relax: when you massage your partner or behave intimately with her, she will feel how you feel. We call it being in phase. It's pure emotional contagion.
You can not make your partner comfortable or get her to relax unless you do it yourself. It is necessary to show the example: for this, you can take some great inspirations in your lower abdomen, to relax your body and your mind with each expiration.
It will balance and refocus you.
Prepare the atmosphere for the massage
Make the place where you plan to act, a pleasant place. It is also important, when doing a massage, to keep the girl literally "hot" .
Keep in mind that you will always be warmer than the person lying down, especially if you have an energetic massage. Cover the parts of the woman's body that you are not working on with a blanket or towel.
It's important for them to be warm and comfortable, so they can relax completely.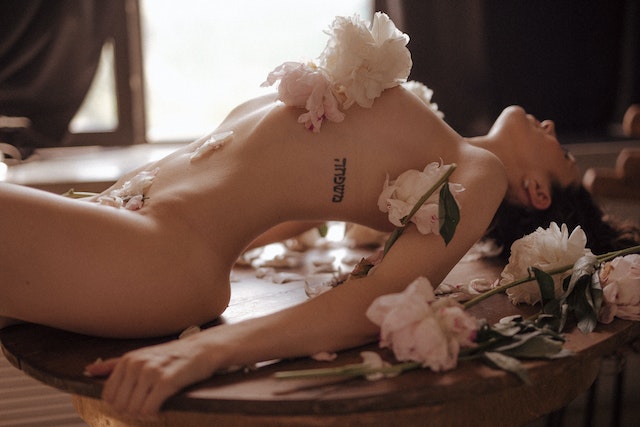 Run an innocent massage in erotic massage
With no rough hands, start softly and sensually… do not press too hard unless she asks.
During the massage, you can:
– Tell her to put on her underwear and then unzip her top casually ;
– Make small circles in her hair with the tips of your fingers;
– Massage her thighs, go back to her sex casually and then back down her thighs. Massage her buttocks too;
– Lick the hollow of her neck, of her ear lobes;
– Innocently approach your sex of hers then move away casually while continuing your massage;
– Do not bite her nipples too much, but lick or caress instead;
– The hollow of her knees, elbows, ankles: all this is all too often forgotten during the foreplay;
– You can follow her column with your tongue during a massage. Guaranteed sensations!
– Stroke her sex through her underwear.
I regularly used the technique of massage to sleep with girls, like in this adventure with a physio or this one with a very pretty girl.
That's why, as a seducer it is important to learn how to massage a woman, how to give a good massage to a woman…
Have you ever tried body-body massage?
This is when you use your entire body to massage hers (of course both half-naked). It's very exciting and it can quickly slip so much sexual tension can escalate! That's how to make a good massage to a woman!
You must understand that society is trying to make you feel guilty about loving sex, or even just thinking about it… but it is actually a life energy (and a vital energy).
Shame or guilt are not good things when you talk about sex… sex is always better with people who are comfortable with their sexuality. I prefer girls who are in peace with who they really are.
How to make a good erotic massage?
Positioning for an erotic massage
She and you have to relax… this is one of the most important steps. Work from the neck and go down. Get rid of the tension.
Sexual energy is not only in the vagina, it is everywhere.
Put her in the position that makes she lies on her back with her legs up.
Put some oil on your hand and rub his mount of Venus (the pubis) as if you washed it and enter it with your hands.
For oil, prefer aromatherapy bottled rather than baby oil or whatever… and most importantly, take natural oils!
Why putting a cousin under her buttocks and knees to make her feel more comfortable?
How to take good care of a woman during an erotic massage?
Attention, an erotic massage is not necessarily a tantric massage, nor a libertine massage but on the other hand it is always a naughty massage. (Nor even a Yoni massage.)
Start to finger her using the fingering techniques I already told you about.
Go as deep as possible. From top to bottom. The first movements should be soft then go for it stronger.
In all directions this time, not only from top to bottom. Do not go too hard if she is very sensitive, listen to her if she says "stop" or "more gently". You can also make circles inside her vagina with your fingers.
Every girl is different so we have to see what each one enjoys. The routine is flexible. If the girl is not yet awake sexually, it may even seem too intense for her, for the first time.
It is sometimes necessary to accompany the woman to orgasm: tell her to let go, that she can make noise if she wants, etc.
Calibration for a good erotic massage
Look at her face to see what she's doing best and do it more. By the way, do not forget to massage her breasts.
If, at the approach of orgasm, contact with your fingers "hurts" her, you will either have to make wider circles around the clitoris, or go with your tongue or penetrate with your sex.
She may be ejaculating, do not hesitate to go see this page for tips to make a woman ejaculate. How to make a girl squirt ?
When she is well relaxed and ready, her pussy will normally be full of blood.
She will thus feel more emotions sensations and not just in the area of ​​her rump.
Erotic massage suite
Once her vagina is elastic, tell her to turn face down (this massage position is not bad for the feeling of security and comfort it provides).
Put a cushion under her feet.
Start by massaging her upper back.
Then, intensive fingering and tell her to talk, to let go!
Move back and forth, up and down, in circles.
With your other hand, press down on the bottom of her belly, on the place called the "Mount of Venus". It will put more pressure on her G-spot and increase her pleasure. Listen to her instructions. If she tells you to go faster or harder, do it.
If your partner tells you that she feels the urge to pee, answer that it's normal and she can let go. In a few minutes, she should start to ejaculate. You may even see a small jet or a few drops of liquid come out or gush from her vagina at that time.
Anyway, this kind of warm up will make her feel much more intimate with the person with whom she is about to make love. This is what I call the whole body massage.
If you enjoy doing this to her, she will also appreciate you doing it to her. All this must seem natural.
If you are in a relationship, you can practice it regularly before sex, to be sure that your partner is relaxed.
Erotic massage as a profession
If you are Parisian and want a good erotic massage, I suggest you call my friend Vincent Body-Expert.
In Lyon and Aix-en-Provence, on the other hand, I do not know anyone who does erotic massage for women… but it must exist.
If this interests you, know that for the price, it takes about €300, but it is often cheaper for students.
Anyway, attention, I must precise that being erotic masseur is not prostitution, it's just an erotic massage that aims to relax and allow to realize this fantasy common to many women! 😉
Concerning what can happen next, you must see how much the woman and the masseur are libertines. For the anecdote, Vincent told me the other day that sometimes husbands accompany their wives during the erotic massage and that it is a fabulous preliminary! There are even some who are candaulists (they practice candaulisme) and who are really turned on by it without jealousy (we can call it candaulist massages)…